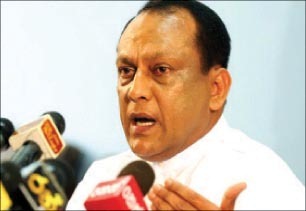 Following the United Nations Human Rights Council sessions in Geneva, Sri Lankan state media and members of the government have been on the offensive against human rights activists and independent media groups calling them 'traitors'. Lakshman Yapa Abeywardena, acting Minister of Mass Media, in an interview with The Sunday Leader says he has put a stop to that but accused some NGO's of using forged documents to accuse the government of human rights violations.
Q: In a democracy people have a right to express different views that are contrary to government viewpoints. Following the UNHRC meeting in Geneva, state media has been labelling journalists and activists as 'traitors'. Why?
A: Sometimes people, not NGOS, but people personally have criticised the government over the issue of human rights. Sometimes  NGOS also have gone on to submit forged documents to the international community. Therefore, personally, I feel that this sort of action is not beneficial to the country. On these occasions they are exposed by our (state) media. However, last week I did stop state media from continuing their campaign.
Q: Last Friday Minister Mervyn Silva told media that he would 'break the limbs' of several activists if he came across them. He also said that he was responsible for Poddala Jayantha fleeing the country. What action is being taken by the government against the Minister?
A: The government completely condemns those comments by the Minister. Nobody can do that in this country.
Q: Will the government be taking any disciplinary action?
A: It may be carried out by the SLFP Secretary, I cannot comment on that.
Q: Minister G. L. Peiris came out and condemned the comments made by the Minister, however, he also defended threats made by members of the delegations claiming they 'acted emotionally'. Does the government support this comment?
A: I cannot comment as this is the personal view of the Minister, you would need to ask him about this.
Q: As the acting Minister of Media, what steps are being taken by the Ministry to protect the journalists of the country from such threats?
A: We have instructed all of our institutions to stop highlighting the names of journalists. Any incident that occurs in the future will be looked in to by me personally.
Q: There are numerous Sri Lankan journalists overseas who fled the country citing safety concerns.  Has the government in any way invited them to return to the country and assured their safety?
A: At this point in time I do not think it is necessary for these journalists to seek political asylum.  They are welcome to return and live in Sri Lanka. The government has approached them and given them whatever assurances they need. However, it is their own decision of whether they should return or not. As far as the political and security side is concerned the government can look after these journalists.
Q: What institutes are there in place to allow independent journalists to file complaints against the state media?
A: They can either make the complaint to the Secretary (of the Ministry) or they can make the complaint to the Press Council. The government will not interfere in any way with these complaints.
Q: Last year the government shut down several websites claiming they carried defamatory articles against members of the government. These recent reports by state media against the activists and journalists can also be considered defamatory. Will any action be taken?
A: Sometimes those websites criticised the President and members of his family, today I received numerous documents regarding that issue. We have now gone to the courts against these websites, there are currently four or five cases going on.
Q: Similarly will these individuals be allowed to go to court against government institutes?
A: Of course they can go to Court and file a complaint.
Q: Will the government intervene on the part of their institutes?
A: No, each of these media institutes has their own separate Board of Directors and their own lawyers. We cannot get involved. They will look after themselves.
Q: Do you feel that this labelling of these journalists and activists as 'traitors' is a form of suppression of speech?
A: No, they can openly speak as they have been doing so these past few weeks.
Q: But the moment they do they have been called traitors by the state institutes and members of the government.
A: Anybody can speak their mind, whether it is the media or a politician. Mervyn Silva in the past has criticised Sirasa TV for an article they ran about him. Similarly the media criticised him for his actions. Anybody can speak their mind.
(For updates you can share with your friends, follow TNN on Facebook and Twitter )