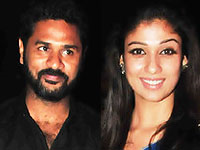 Nayantara has finally opened up on calling it quits with Prabhu Deva!
From what the actress has said to the media it looks like she is feeling cheated.  She insinuated that although she was ready to make any sacrifice, the other one did not seem to value love.
"I had always been one hundred per cent honest with Prabhu Deva.  When I realized that it did not have any meaning or value (for him), I thought I better come out of it.  I never thought that my love will see an end in the middle", said Nayan.
However, Nayan has learned something from the experience and is quick to add:  "I understand that anything can happen any time in life."  She said that she was always ready to do anything in love.  "I sacrificed a lot for his sake.  If problems that arise in love are not rectified in time, they can get out of hand.  That is what has happened with me", she said.
(For updates you can share with your friends, follow TNN on Facebook and Twitter )