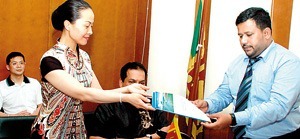 Chinese investors are promising to spend a gigantic US$50 billion over the next 10 years in developing an international port city in Hambantota, the government says. "We are looking at a 10 year timeline for the $ 50 billion Hambantota Trade City Project on the Public Private Partnership model. We are planning to implement it with the support of international investment and financial institutions," Ms Song Jianhua, Chairwoman of Sino-Sri Lanka Rich Investment (SSLRI) was quoted as saying in a Ministry of Industry and Commerce media release.
Ms Song Jianhua led a 13-member Chinese business group, part of the overall 150 Chinese business delegates that participated at last week's Sri Lanka Expo 2012 organised by the Export Development Board. Her delegation comprised powerful, state-of-art technology players in fertilizer, port development, energy, petro-chemistry, cement, and machinery, the Ministry said.
The Ministry said she was clarifying reports that the $50 billion was an unbelievable figure and was almost equal to Sri Lanka's annual GDP. "The $ 50 billion value is no misnomer. This is a private public partnership at our end and we envisage an overall investment value of $ 50 billion over a 10-15 year period and we will proceed upon approval by the government of Sri Lanka.
I am happy to inform you that this is not a sole Chinese entry-in fact it is a multinational effort in which investors from Singapore, Hong Kong and US are also joining the Chinese investors as lead investors. The main Chinese investors represent manufacturing and logistic sectors. But I should stress that the project timeline will also depend on the speed of approval," she was quoted as saying.
Sri Lanka so far has been able to receive $1 billion in foreign direct investments last year and aiming at $2 billion this year. Ms Jianhua, who spoke with the assistance of a language interpreter, added: "There will be other investments from us after the port city is established. Members of my delegation are also keen on real estate, black tea and jewellery once we process the port city. We also have the support of international investment and financial institutions. Most importantly, I believe that our efforts will boost Sri Lanka – China trade cooperation significantly."
(For updates you can share with your friends, follow TNN on Facebook and Twitter )