(Maan)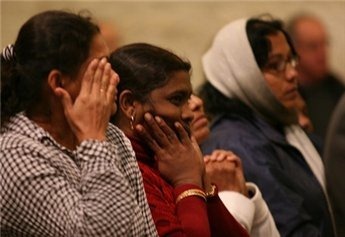 Tamil activists on Friday urged President Mahmoud Abbas to address alleged war crimes by Sri Lankan authorities on his upcoming visit to the country.
Abbas is due to arrive in Sri Lanka on Sunday as part of an international tour including Japan and the Maldives.
Sri Lankan president Mahinda Rajapaksa is a vocal supporter of Palestinians, and Palestine's envoy to the country said earlier the leaders would sign a number of agreements during the trip to improve bilateral relations.
But the head of the Tamil independence group, the Transnational Government of Tamil Eelam, Visuvanathan Rudrakumaran said in a letter to Abbas: "Your State visit will be stage managed and you will never see the pain and suffering of Tamils."
"We urge you to use the freedom you will enjoy as a head of State to speak about these atrocities committed by the Sri Lankan Government," a statement quoting the letter said.
Minority Tamils have long complained of persecution by successive governments dominated by the Indian Ocean island's Sinhalese majority since independence from Britain in 1948.
In late March the UN Human Rights Council adopted a resolution calling on Sri Lanka to ensure government troops who committed war crimes towards the end of its war against Tamil rebels are brought to justice.
Tens of thousands of civilians were killed in 2009 in the final months of Sri Lanka's 25-year civil war, a United Nations panel said last year, as government troops advanced on the ever-shrinking northern tip of the island controlled by Tamil forces fighting for an independent homeland.
The UN panel said it had "credible allegations" that Sri Lankan troops and the Tamil Tigers both carried out atrocities and war crimes, and singled out the government for most of the responsibility for the deaths.
Sri Lanka has acknowledged that some civilians were killed in the last months of the offensive, but says the numbers cited by the UN panel are vastly exaggerated. It has also said the Liberation Tigers of Tamil Eelam fighters — a group classified as a terrorist organization by more than 30 countries — often dressed in civilian garb, making it unclear who was a combatant.
(For updates you can share with your friends, follow TNN on Facebook and Twitter )