Age of 'Sereppu Soup' not of Enlightenment. There is a pithy Sinhala saying about pundits: Pundits can't cross an 'Eh- danda'. To those not acquainted with rural life or the Sinhala language 'Eh –danda' is a tree or log placed across a stream which has no railing or a form of support for those who walk on it to cross the stream.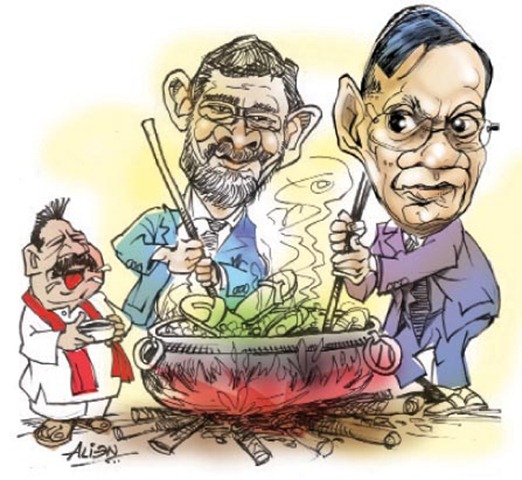 The pundit on coming to an 'eh-danda' will find many reasons why it shouldn't or couldn't be crossed lest he falls into the stream. But sturdy farmers of even little children go across it quite effortlessly.
Our favourite humourist, American writer Ogden Nash too had a wonderful two-liner on the subject. 'Here's a good rule of thumb: Too clever is dumb'.
GL as Pundit
Our thoughts went out in this direction when we considered the plight of one of the most outstanding pundits of our time Prof. G. L.Peiris, the External Affairs Minister (Foreign Minister). Deservedly he should hold this portfolio. But he is under severe attacks from many quarters for no valid reason. The Foreign Minister as any other minister has to carry out the policies and directions by our omnipotent, omniscient president, Mahinda Rajapaksa.
Peiris's voice is HMV (His Master's Voice) and everyone knows it. Why then is he singled out for attack? He is no doubt the most outstanding pundit of our times. Son of Glennie Peiris, a former director general of foreign affairs and hailing from one of the wealthiest families, Peiris can stand on his own academic qualifications that outshines the rest. On 'sweeping the board' at the prize givings of his old school S. Thomas', Peiris entered the Law Faculty of the University of Ceylon where he scored a First Class, won the prestigious Rhodes scholarship to Oxford and was awarded a Ph.D. at Oxford. He held the posts of the Professor of Law and Dean of the Faculty of Law of the Colombo University and was also its Vice-Chancellor.
The learned pundit then did something which pundits normally won't do. He to ok to politics. Chandrika Kumratunga made him a National List MP, Minister of Justice, Deputy Minister of Finance, Minister of External Trade, Minister of Ethnic Affairs and Minister of National Integration. He then fell out with President Kumaratunga and crossed over to the UNP bringing down her government. In Ranil Wickremesinghe's government, he became the chief negotiator with the LTTE on the National Question along with the Four Co-chairs of the Western Powers. Now once again he is the Foreign Minister of the Rajapaksa regime.
Our interest in the learned professor whom we have known for some time is to determine how and why such a man of erudition and intelligence who speaks with care and intelligence on sensitive issues – like a person walking on eggs – should now provoke such hostile criticism in certain sections of the press and even within his own ranks. The answer in our opinion is found in the issue why pundits can't cross eh-dandas And in Ogden Nash's observation on the Rule of Thumb: Too clever is to be dumb. For example petty fogging lawyers simply cannot stand the academic punditry and legal erudition of Peiris.
Dayan Jayatilleke
There is another diplomat who at the moment is in hot water and falls into the same category as G.L.Peiris: Dayan Jayatilleke. Jayatilleke has a First in Political Science from Peradeniya, winner of a Fulbright Scholarship, holds a Ph.D. from Griffith University in Brisbane, a don in the Department of Political Science of the Colombo University and above all, as Ambassador to Geneva, 2 years ago, resoundingly defeated a resolution sponsored by Western Powers condemning Sri Lanka for violation of human rights. He was the toast of the ruling party regime for some time but Jayatilleke— as we Sri Lankans say— has a penchant for 'kicking the bucket'. He was the dog house for sometime but bounced back and is now in gay Paris – probably enjoying himself – but was kicking his heels there for being kept out of Geneva while the action was on last month. Jayatilleke's career was much more varied than that of staid Peiris. He was a proclaimed Communist, an admirer of Josef Stalin and Fidel Castro and was even the first accused in a conspiracy to topple the government of President Jayewardene.
He was no walker on gentle eggs like Peiris. He prefers to throw them at his targets. Jayatilleke is now in hot water for refurbishing the Parisian residence at much cost to the state and the riot act is being read out to him for violating ARs and FRs. Certainly no way to treat an ambassador who once saved Sri Lankan from ignominy.
The trouble with both pundits we have realised is that they do not realise that being naturally too clever or posing off as a clever person in these times is imply asking for trouble. In this age and time everyone sympathises with failure but not with success. They will congratulate you with one hand and plunge a knife into your back with the other.
Diogenes
This is not the Age of Enlightenment where philosopher kings rule. The story of Diogenes the cynic and Alexander the Great is worth recalling.
Diogenes the eccentric philosopher lived in a tub in a market place and the young Greek conqueror, Alexander, who admired Diogenes' philosophy called on him and asked him what favour he could do for Diogenes. Diogenes was sun bathing at that time and he had said; Yes you can do one favour, stand out of my sunlight. Alexander, the world conqueror had replied: If I am not Alexander I would like to be Diogenes.
(For updates you can share with your friends, follow TNN on Facebook and Twitter )