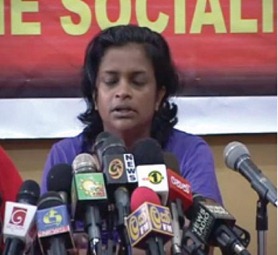 The enforced disappearances phenomenon is but one in a long list of problems plaguing the Tamil people of Sri Lanka in recent times. People suddenly disappear or go missing. There have been some incidents where Muslims and Sinhala people have gone "missing" too but the overwhelming cases of "Missing" or "Disappearances" pertain to the Tamil people alone. Though these incidents are loosely called "disappearances" they are really "involuntary disappearances" or "enforced disappearances".
Disappearances are nothing new to this country. The Janatha Vimukthi Peramuna (JVP) insurgencies of 1971 and 1988 – 89 saw thousands of people mainly youths being killed or made to disappear. Officially sanctioned unofficial abductions and executions were the order of the day. While this method was consciously adopted by the state to defeat the insurrection the JVP rebels themselves were responsible for several killings and disappearances. Quantitatively state repression was much more than the JVP violence.
Likewise the long years of an on going ethnic conflict have also seen much Tiger terror, counter-terror, inter-terror, intra-terror and state terror. Tamil youths were taken , tortured and murdered in 1979 when Junius Richard Jayewardene declared emergency for Jaffna and sent his nephew "Bull" Weeratunga with orders " to wipe out terror in all its forms" before December 31st.
Similiar incidents as well as other types of "disappearances" took place frequently thereafter. There were many instances where disappearances and mass executions were part of deliberate state policy to quell the separatism. The Special Task Force in the East excelled at this type of counter-insurgency. In 1996 after the security forces took over Jaffna more than 500 Tamil youths disappeared. Some bodies were discovered at the Chemmany mass grave.
While the security forces were responsible for many disappearances and executions of Tamils in the past, the Tamil armed groups too were involved in such activity. The internecine warfare among Tamil guerilla organizations contributed greatly to this situation. There were also a lot of internal killings. Moreover people suspected of being spies, informants and traitors were also victims. There were also instances of people being abducted for interrogation or for ransom. Many died in custody and are termed missing.
In this endless cycle of " misery" it has now become the turn of Tamils to bear the brunt of "enforced disappearances". Disappearances have taken place in Colombo, Negombo, Dehiwela, Puttalam, Chilaw, Ratnapura, Avissawela, Wattala, Ratnapura and Kandy. They are also happening in Jaffna, Vavuniya, Mannar, Batticaloa, Trincomalee and Amparai districts. People are also being abducted in the areas controlled by the Liberation Tigers of Tamil Eelam (LTTE).
A vague pattern can be discerned in the incidents occurring in the areas controlled by the Government of Sri Lanka (GoSL) . The disappeared and those reported dead can be divided into four broad categories. One category is that of people suspected to be linked directly to the LTTE. The second category is that of people suspected of being linked indirectly to the LTTE. The third category is that of businessmen suspected of being linked directly or indirectly to the LTTE. The fourth category is that of businessmen, professionals etc. being abducted to extract huge sums of money as ransom.
The current phase of disappearances and killings in Jaffna began as a calculated campaign to weed out and eradicate perceived LTTE elements.
The ill-advised LTTE campaign of enlisting "trained civilians" as the so called "peoples' force " (Makkal padai) to attack the Police and security forces in GoSL controlled Jaffna made the state fully aware of the "enemy within". The LTTE functioning officially as the "political wing" withdrew leaving the civilians to face the consequences. Many pro-Tiger families also relocated to the Wanni.
The danger of a "fifth column" was once again realised during the abortive Tiger attempt to re-take Jaffna in August last year.
As a result of this paranoia regarding a "fifth column within" people perceived as LTTE or LTTE supporters are being either killed or being abducted. Some of the abducted are interrogated and detained. They are regarded as "lucky" because their presence is acknowledged officially. Family members are informed and human rights organizations and some Non Governmental Organizations are also kept informed. A few have been produced in courts too. If anything happens to these prisoners or detenues the state will be held responsible and accountable. This extends some form of protection to them.
But those affected terribly are those who have gone missing or reportedly disappeared. In many instances people are instantly killed or killed within a short time of being abducted. But there are many who have vanished without trace. Most of these "vanished" are reportedly dead. Some charred corpses have been discovered. In a few cases torsos of bodies have been found floating in the sea. It is suspected that abducted people are killed, body parts severed and then taken to sea and flung overboard with stones attached.
It is widely alleged that the security intelligence and counter-intelligence operatives have assembled files of people believed to be linked to the LTTE or co-opted into its service. Many of those killed instantaneously are people who are strongly suspected of being LTTE.
Some killings however are by the Tigers themselves of suspected collaborators and pro-government elements. In the case of business people suspected of being linked to the LTTE or helping them with money a different approach is adopted. They are asked to pay up and those obliging are left alone. But those refusing or not giving enough are killed.
During the LTTE's unbridled "occupation" of Jaffna after the ceasefire several public demonstrations were held. All of these were videoed by the security intelligence. Now those in the forefront of these demonstrations and those engaged in organizing them etc. are being identified and killed. Students involved in demonstrations are also targetted. At the same time several people trained by the LTTE in combat or planted by the Tigers as intelligence operatives are also being killed or abducted.. There is however a big margin of error in this. So many innocent persons are being victimised.
In Jaffna, elements linked to the Eelam Peoples Democratic Party (EPDP) are allegedly responsible for much of these acts. The EPDP has a public political face on the one hand. These political activists selling the "Thinamurasu" are unarmed and rely on Police and army protection to move about. The LTTE often kills these people ruthlessly. But there is another killer group of EPDP elements closely connected to Sri Lankan intelligence and security forces. It is this outfit which engages in abductions, extortion and killing.
The EPDP along with some sections of the Peoples Liberation Organization of Tamil Eelam (PLOTE) were engaged in these activities in Vavuniya. In recent times the Karuna faction too has arrived in Vavuniya. With a senior LTTE leader from Vavuniya who was earlier in charge of Tiger taxation joining the Karuna faction the situation transformed. Many who had given money to the LTTE earlier are being asked the exact amount by the Karuna faction. It is believed that the Karuna faction is a mix of several ex-cadres from different groups.
Likewise the EPDP segment engaged in violence in Jaffna and Vaviniya are also a mixture of assorted elements.
In Batticaloa the Karuna faction known as Tamil Makkal Viduthalai Puligal (TMVP) is involved in abductions, killings and extortion in the form of taxes. The mainstream LTTE is also active in a clandestine manner. The TMVP has also opened branches in Trincomalee. Tamil traders are being taxed ruthlessly. Also Tamil community leaders and businessmen are being killed. The TMVP tried to move into Amparai district also. But opposition from Muslim people along with the hatred some sections of the STF have for Karuna has prevented this. So Amparai Tamils are not suffering like their counterparts in other areas in this respect. But they have many other problems.
In Colombo the situation in the period after the ceasefire that came into effect was one where the LTTE was killing suspected informants, paramilitaries and members of alternative Tamil parties like the EPDP. Many Tamil businessmen were also compelled to pay money. The LTTE also infiltrated Colombo by planting its agents in different places. Some businesses were also opened by Tiger stooges.
Initially the abductions and disappearances were directed against the perceived LTTE fifth column. The EPDP was of help in assisting the intelligence. But soon the Karuna faction overshadowed the EPDP. In fairness to the EPDP it must be said that the party has a definite political program and was earlier reluctant to confront the Tigers.
But the LTTE forced the EPDP to join forces with the Security intelligence and collaborate actively in anti–Tiger action. But the Karuna faction like the mainstream LTTE has no comprehensive political agenda. They are solely dependent on the state and are guided and controlled by the state's "intelligence" handlers. In Mao Ze Dong's parlance the TMVP cadres are nowadays the "running dogs" of (Sinhala) Imperialism.
The Colombo scenario has started deteriorating. From a stage where only suspected LTTE agents were being targetted the situation has now become one where the profit motive is dominating. Most disappearances through abductions are now being enforced to extort massive sums of money as ransom. It is not only Tamils of North – Eastern origin who are being victimized but many Indian origin Tamils too. Some Muslims too have been terrorised.
On another level people believed to be LTTE agents or intelligence operatives are also being targetted. Many of them vanish without trace and are believed to have been killed. Some bodies are found on roadsides and in waterways. A few are headless. These bodies were meant to be discovered in order to terrorise the people. At the same time many are being disposed of in the sea. After the Chemmani and Suriakanda mass grave controvrsies there is reluctance to bury the victims. It is said that many victims are those killed by torture during interrogation.
The "enforced disappearances" of most affluent Tamils are not political or related to counter-terrorist procedures. These are nothing but extortion related abductions. It is now an industry. The actual number of incidents are not reported to the Police or even organizations like the Civil Monitoring Commission. Many people negotiate on their own and get their loved ones released through paying a reduced sum. They later keep silent.
In many cases the ransom paid is so great that continuing with business becomes impossible. Some are forced to sell off property to collect ransom money. Also some who get released feel so insecure that they transfer their businesses to someone else and leave the country. There are also many businessmen who have run off to India, Singapore, Malaysia, Thailand, the Middle East and Western nations to escape being victimised.
While these organized "disappearances for ransom" is overtly a racket milking Tamil cash cows there is also a hidden aspect. In July 1983 organized mobs consisting mainly of Sinhala-speaking hoodlums looted and destroyed Tamil businesses. Despite that blow the resilient Tamil people have bounced back and have carved out their niche once again in Sri Lankan commerce. What is happening now is another "silent" July 1983. The business concerns are not physically destroyed but Tamil businessmen are being systematically wiped out. Tamil owned or controlled commerce is rapidly eroding.
The irony is that this slow strangulation is not being done by Sinhala mobs but by Tamil cat'spaws. The actual abductions are generally done by the Karuna or EPDP group or in a few cases by both. There is close collaboration by sections of the Police and armed forces and intelligence personnel. Some top "security" guy is usually at hand to help out if something goes wrong. It is also believed that a percentage of the ill-gained loot is given to these sections. In some instances the Tamil groups pay "bribes" to get things done.
There does not seem to be institutionalised corruption or collaboration by the Police or armed forces in this sordid activity.
But there certainly seems to be collaboration on an individual basis by some sections of the Police and armed forces. Some victims have told families that their abductors simply flashed their ID cards at check points and got clearance. In some cases the abducted persons were gagged and bound and forced to lie down in the vehicle while their abductors placed their feet on them. The security personnel at checkposts were apparently not aware of abductees being in the vehicle.
According to versions trotted out by released victims there seem to be safe houses in Colombo and its suburbs where some victims have been taken. Others have been taken to makeshift camps in Polonnaruwa, Amparai and Vavuniya. Usually they are kept blindfolded and allowed time for meals and ablutions during which time the blindfolds are removed. They were allowed to bathe once in two days. Some victims have been assaulted and badly treated while others were treated well. These vagaries were a result of the personality differences of the respective captors. Victims also say that their captors spoke in Sinhala, Tamil and English in different dialects.
What is frightening about this racket is suspected connivance and condonement at very high levels. At least one cabinet minister has demanded and received money for the release of abducted persons. There are also instances of the families and relatives of abducted persons obtaining their releases through contacts at very, very high levels of Government. It is said that the only sure guarantee of getting one released is to gain the sympathy of family members of a powerful, political dynasty.
This does not mean that a powerful "clique" is directing all operations. The abductors have autonomy in this. But if someone is to be easily released without paying up then political help at a very high level is absolutely essential.
There is also the patent lack of interest shown in trying to apprehend the culprits. Despite much evidence being available no effort is made to trace the abductors. Tamils have been arrested by honest Sinhala Policemen but were forced to release them due to high level pressure. Up Country Peoples Front MP and Deputy Minister Radhakrishnan went public with the telephone numbers of some abductors. Instead of follow up action some Police sleuths summoned Radhakrishnan for an inquiry about how he got his information
Against this backdrop the average Tamil victim does not trust the Police, armed forces or the Government. Those who have high level contacts use that influence to get their loved ones out. Others negotiate with the abductors, pay up and secure releases. After getting out most victims either leave the country or simply keep quiet.
There are however many who still remain missing. There may be a variety of reasons for this. In some instances the abducted do not have the resources to pay the ransom demanded. Some have not been released despite ransoms being paid. There is suspicion that many have been killed or died through torture in custody. The families of such people are despondent. The only silver lining in that dark cloud is the Civil Monitoring Commission convened by Mano Ganeshan the Western Peoples Front leader and Parliamentarian. The chairman is veteran leftist and former Presidential candidate Siritunga Jayasuriya.
Politicians such as Vasudeva Nanayakkara, Lakshman Kiriella, Suresh Premachandran etc. are also involved in the commission's activities. The efforts of this body have failed so far to get any "missing" person released but the awareness created has helped to minimise abductions to some extent. Currently disappearances in Colombo have decreased but are on the increase in the North.
The role of agencies such as the Civil Monitoring Commission have been commendable in drawing attention to the crucial problem of disappearances. The CMC has played a pivotal role in creating public opinion on this. More importantly the Civil Monitoring Commission provides an avenue for affected families to complain without fear. The recent conference in Colombo attended by Ranil Wickremesinghe saw many loved ones of the disappeared release their pent up emotions in public. Ultimately the Government cannot shirk its responsibility. It is accountable for these disappearances even if it has no hand in this. But in Sri Lanka the evidence available shows that the Government does not have clean hands in this. Many top persons are implicated. Statements by Government personalities like "Tamils from the North are getting lost in Colombo", "eloping Tamils are missing" etc. add insult to injury. Sri Lanka is only second to Iraq in the realm of disappearances. Yet International human rights organizations are yet to come out with comprehensive reports exposing the situation in detail. Amnesty International exposed the Kumaratunga regime over disappearances in 1996. But last year more than a 1000 have disappeared. This year it has topped 300 already. The International community is yet to display the same energy shown over child soldiers in the case of disappearances.
DBS Jeyaraj can be reached at [email protected]
(For updates you can share with your friends, follow TNN on Facebook and Twitter )