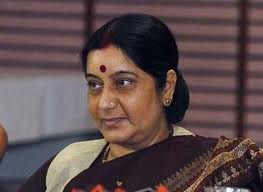 India's opposition leader Ms. Sushma Swaraj who is currently leading a parliamentary delegation on a visit to Sri Lanka stressed yesterday that the government should evolve a political solution to the national question based on the 13th Amendment to the Constitution, informed sources said yesterday.
The visiting delegation of Indian parliamentarians representing both Lok Shaba and Rajya Sabha had an interactive session with a Sri Lankan parliamentary delegation led by Leader of the House Minister Nimal Siripala de Silva in the parliamentary complex. 
During the meeting, Minister de Silva said that the government consists of a few parties   with different political ideologies, and therefore, it is difficult to take unilateral decisions with regard to the national question. As a result, he said that the government had proposed to appoint a parliamentary select committee to evolve a political solution in consultation with all the parties concerned.  He criticized the Tamil National Alliance (TNA) for not nominating its members to this committee.
TNA leader R. Sampanthan joined the discussion saying that the successive governments had neglected their responsibility in delivering a reasonable political solution to Tamil people. In a hard hitting speech, he viewed that his party started a dialogue with the present government in January, last year, but no progress had been made for the fulfillment of political aspirations of Tamil people. 
(For updates you can share with your friends, follow TNN on Facebook and Twitter )