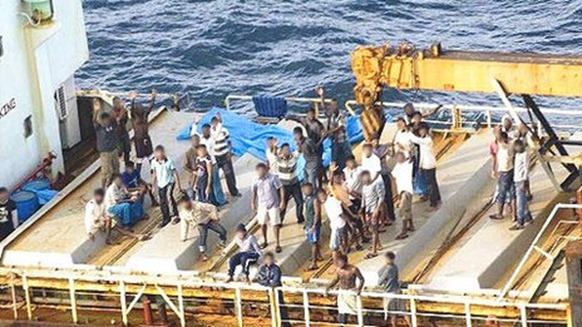 Relatives and friends of Sri Lankan Tamils who risked their lives in search of a better future abroad after the end of the war in May 2009 are desperately seeking information as to their fates.
Thousands of Tamils migrated from the country to escape the violence of the 30-year civil war, which ended with Sri Lankan troops routing the separatist Tamil Tigers.
Many have fallen prey to dangerous human smuggling networks, their families say.
The smugglers reportedly charge between $25,000 (£16,000) and $50,000 (£33,000) to take a person from Sri Lanka to places like Australia or Canada.
Those wanting to get out are first taken to India or Thailand and then to Australia by boat.
Many Sri Lankan Tamils have gone missing during this voyage, while others have been caught by the authorities and are languishing in prisons.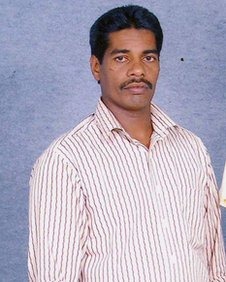 Kokila, a mother of four and a resident of northern Jaffna, has lost all contact with her husband, Jayaveerasingam Sivaguru, who set sail on a boat to Australia two years ago.
"He boarded a boat from Pondicherry, 200km [124 miles] south of the Indian city of Madras [Chennai] in October 2009," she says.
"After that I don't know what happened to him.
"Many boats have sunk in the sea. I am really worried. In 2010, I lodged a complaint with the Red Cross."
'New hope'
Another Jaffna resident, Tamizhini, is looking for information about her younger brother, Rassaiya Anandadeepan. She says he left for India by plane and boarded a boat from the western port city of Mangalore.
"We have had no contact with my brother after he left in the boat in 2009," she said.
"But a year later, I saw his photograph on the internet – which gave me new hope. In that photograph my brother was seen standing on a ship.
"This means he is alive. From the accompanying news story I understand the ship in which he was travelling was intercepted near the city of Padang in Indonesia."
She approached international agencies such as the UN High Commissioner for Refugees (UNHCR) for help.
Tamizhini says the local agent to whom she paid money is still in Jaffna but she is too afraid to seek help from police based there.
Many Sri Lankan Tamils who escaped from government refugee camps set up during the final months of the war had no option but to leave the country. Many of them paid huge sums to do so.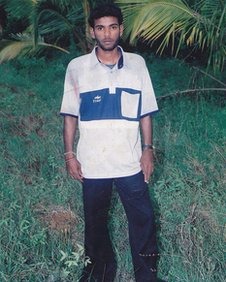 Often families sold their jewels or mortgaged their houses to pay for the journey.
The authorities recently foiled at least two attempts to smuggle people to Australia and the Seychelles.
Police say they are keen to help the families of those who are missing.
"We can get assistance from Interpol and our foreign ministry to find missing people," says a Sri Lankan police spokesman, Ajith Rohana.
'Really scared'
During late 2009 and early 2010, two separate shiploads of about 600 Sri Lankan Tamils in all even reached Canada. Their claims for political asylum are now being processed.
In February 2012 it emerged that 200 Sri Lankan Tamil refugees were living in desperate conditions in the west African state of Togo.
Usually, however, Sri Lankan Tamils try to head for Australia.
"I boarded the boat from Mangalore in October 2009," one man in an Australian detention centre who did not want to be named told me.
"We were taken aboard the trawler during the middle of the night. After seeing the boat I was really scared. I didn't even want to board it.
"It was a small fishing trawler made of wood, which was not capable of undertaking such a long journey."
But he went ahead after his agent promised him that he and 38 others would be transferred to a bigger ship in the sea.
"When we were about 600 nautical miles from Australia our fishing boat developed a snag and started sinking," the man said.
"We took off our shirts and waved them frantically to an Indonesian fishing boat which was in the vicinity."
The man said that the boat he was travelling in sank before the arrival of the Indonesian ship, and 12 migrants perished in the water. Others were rescued and handed over to the Australian coast guard.
'Extremely rough'
After a series of similar incidents, Indonesia and Australia are now jointly working to tackle people smuggling.
Many boats carrying illegal immigrants are intercepted by the Indonesian navy and sent to various detention centres.
Families back in Sri Lanka believe that their loved ones are languishing in undisclosed locations in Indonesia. But officials deny the existence of such facilities.
"We don't have any secret prisons. If anyone in Sri Lanka has specific information about their relatives in Indonesia, they must approach our embassy in Colombo with all the details. We will do our best to help them," said Indonesian Foreign Ministry spokesperson Michael Tene.
Indonesian officials say that those identified as economic migrants will be deported to their country of origin. Only those who get refugee status from the UNHCR will be sent to a third country.
Meanwhile the International Organisation for Migration (IOM) says that while it is concerned over the increased number of people smuggling cases, it is very difficult to find a person who has gone missing.
"The seas between Australia and Indonesia are extremely rough. Many boats have sunk there without trace," IOM Asia-Pacific spokesman Christopher Lowenstein-Lom said.
"Many travel by assuming fake names and documents.
"Paying money to human smugglers will not guarantee an assured journey. Those who are considering paying the human smugglers must think hard."
(For updates you can share with your friends, follow TNN on Facebook and Twitter )