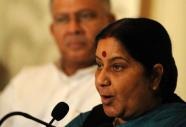 Indian legislators Saturday asked neighbouring Sri Lanka to de-militarise former war zones and share political power with minority Tamils to ensure lasting peace.
Indian national opposition leader Sushma Swaraj, leading a 12-member multi-party delegation, said they urged President Mahinda Rajapakse to deliver on promises to devolve "meaningful power" to the island's ethnic Tamil minority.
Swaraj's delegation also included five lawmakers from India's southern state of Tamil Nadu whose 60 million population share close cultural and religious links with Sri Lanka's Tamils.
Swaraj said Sri Lanka should implement the recommendations from its own Lessons Learnt and Reconciliation Commission (LLRC) which Rajapakse had set up to deflect international calls for an independent war probe.
The LLRC did not apportion blame, but called for a wider probe of the 2009 military drive that defeated Tamil Tiger rebels who had been fighting since 1972 for independence from the majority Sinhalese nation.
Sri Lanka's military success in crushing the Tigers, known for their use of suicide bombings, has also led to widespread condemnation of Sri Lanka's human rights record.
India last month voted for a US-initiated resolution at the UN Human Rights Council calling for a war crimes probe in Sri Lanka where international rights group say up to 40,000 civilians perished during 2009's military action.
Colombo was upset when New Delhi voted with the United States at the UNHRC meeting in Geneva, but Swaraj defended India's action, saying the motion had only urged Sri Lanka to implement the recommendations of its own LLRC war probe.
Swaraj told reporters at the end of her four-day visit that her delegation wanted Sri Lanka to also implement a 1987 constitutional provision that promised limited political autonomy to Tamils in Sri Lanka's northeast.
The United Nations has estimated up to 100,000 people were killed in ethnic bloodshed between 1972 and 2009.
(For updates you can share with your friends, follow TNN on Facebook and Twitter )