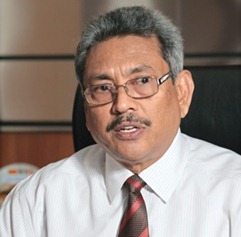 A book, titled "Gota's War: The Crushing of Tamil Tiger Terrorism in Sri Lanka" is to be launched tomorrow (May 14) at Water's Edge, Battaramulla.
According to author C. A. Chandraprema, "Gota's War" is a book on "the entire conflict", encompassing events that took place from 1956 onwards. "It deals with the political as well as the military aspect of the conflict," said Chandraprema.
Responding to questions on why a book on the entire conflict was named exclusively after Defence Secretary Gotabhaya Rajapaksa, Chandraprema said that this was because, "it is he (Rajapaksa) who really finished it. Earlier there were only limited operations. This was the one instance where a concerted effort was made to finish off the LTTE, and the person who presided over the whole thing was Mr. Gotabhaya Rajapaksa," he said.
Chandraprema added that there were also others who had contributed towards ending terrorism, including, he said, "the unknown godfather, Major General Vijaya Wimalaratne" who Chandraprema said, had been a significant influence on Defence Secretary Rajapaksa.
The Chief Guest at the book launch will be President Mahinda Rajapaksa, with Defence Secretary Gotabhaya Rajapaksa attending as the Guest of Honour.
(For updates you can share with your friends, follow TNN on Facebook and Twitter )