Demanding the UN to conduct a referendum among Eezham Tamils to allow them to determine the political future of their homeland, Tamil Nadu based civil society group Youth Against War Crimes and Genocide (YAWCAG) started a campaign to collect one crore signatures to convey solidarity for the same, on Wednesday. The signature campaign which was inaugurated near the Gandhi statue at Marina beach involved participation of veteran political activists and civil society groups from Tamil Nadu. The organizers plan to take the campaign to other districts of Tamil Nadu soon. "It is necessary for the people of Tamil Nadu to pressurize the state and central government to recognize that the Eezham Tamils cannot live with dignity and peace under a unitary Sri Lankan state," E. Ra. Thirumalai, one of the co-ordinators of YAWCAG, told TamilNet.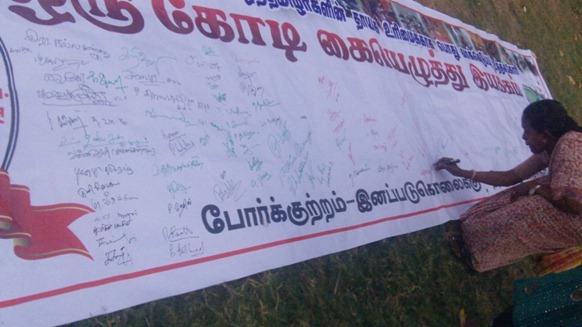 Stating out that reducing what happened to the Eezham Tamils to just human rights abuses makes it internal issue of Sri Lanka, Mr. Thirumalai said that the scale of the war waged by the GoSL on the people in the de facto state of Tamil Eelam was that of a war between two countries.
"After the genocidal war targeting the Eezham Tamils as such, now Sri Lanka is steadily erasing the Tamil homeland. It is of utmost importance now to highlight the need of a UN monitored referendum to allow the Eezham Tamils to determine their political aspirations," he added.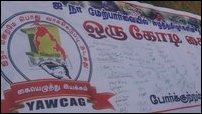 The start of the signature campaign saw the participation of veteran political activist Pazha Nedumaran, Nallakannu of the CPI, Vaiko of the MDMK, M.H. Jawahirullah, the member of Legislative Assembly from the Manithaneaya Makka'l Kadchi, Vanniarasu from the VCK, Panrutti Velmurugan from the Tamzhaka Vaazhvurimaik Kadchi, among others.
The campaign saw the involvement of university and school students in large numbers.
Pamphlets highlighting the need for a state of Tamil Eelam were also distributed to the crowd.
Dr. N. Ezhilan and Mr. Thirumalai coordinated the event.
(For updates you can share with your friends, follow TNN on Facebook and Twitter )