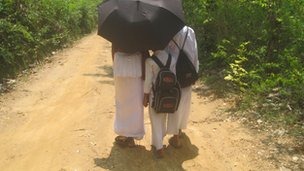 Pahalagama Somaratana Thera is one of the few Sri Lankan Buddhist monks to have been found guilty of child abuse inside or outside the country.
But if Children's Affairs Minister Tissa Karaliyadda is to be believed, child abuse in religious establishments by both Buddhist and Christian clergy in Sri Lanka is rampant.
Yet according to figures from Sri Lanka's National Child Protection Authority (NCPA), only three Buddhist monks have been convicted of child abuse in Sri Lanka in recent history.
One of those died from poison he drank after he was sentenced for raping a girl aged 13 in 2005.
Research carried out by the BBC Sinhala service has revealed that over the last decade, nearly 110 Buddhist monks have been charged for sexual and physical assaults on minors in Sri Lanka.
Many of these cases – especially those of a sexual nature – were barely reported by the Sri Lankan media and seldom resulted in convictions.
One of the few cases that did make it into the newspapers is that of Buddhist monk and former parliamentarian Aparekke Pannananda Thera, who has been charged with sexually abusing minors.
He and another leading monk in the town of Anuradhapura, Namalwewa Rathnasara Thera, are currently released on bail in relation to the accusations – which they vehemently deny.
Tip of the iceberg
The issue of child abuse by Buddhist monks is regarded as taboo in what is an overwhelmingly Buddhist country.
Against that backdrop, the 3 May conviction of Pahalagama Somaratana Thera – who runs children's homes in Sri Lanka – has come as a surprise, as well as a shock, to many expatriate Sinhalese Buddhists in the UK.
Supporters of the monk were reported to be so convinced he would be acquitted and released that they planned a grand welcoming party for him during Sri Lanka's important Vesak Buddhist festival.
There are concerns that Thera's conviction may just be the tip of the iceberg when it comes to abuses in Sri Lankan Buddhist temples.
While in some cases monks are not directly accused of carrying out the abuses, they have been accused of failing to stop them.
Most Sri Lankan Buddhist temples have a constant stream of boys and adult male helpers who live there for short periods. It is not at all unusual for temples to seek help from youths in nearby villages to prepare for religious ceremonies and in the general day-to-day running of the buildings.
This, say critics, provides an ideal climate for abusers to take sexual advantage of vulnerable and impressionable boys mostly under 16 years old.
Traumatised
In one recent and disturbing case, monks of an unnamed eastern Sri Lankan Buddhist temple were accused of ignoring constant appeals by parents of abused children to prevent such practices from taking place within its premises.
"I work as an electrician at the temple. I have been part of this temple for a long time but even I could not stop my son being abused," Susil Rohana told the BBC.
Mr Rohana alleges that his son was sexually abused by helpers and workers staying in the temple throughout 2010.
He and other parents stress that while no Buddhist monk is accused of any involvement in the abuse, they nevertheless repeatedly failed to take action to stop it and that even today his son remains traumatised.
Mr Rohana says that he has tried to take the abuse suffered by his son to the courts, but is "getting constant threats" warning him not to do so.
It is not only Buddhist monks who stand accused – about 20 Roman Catholic and Protestant priests have been arrested or investigated for sexual abuse of minors over the last 10 years in Sri Lanka.
While there are no accurate records on how many of them have been convicted, officials say that at least one accused Catholic priest is still absconding since being given bail.
The Catholic Church in Sri Lanka refused to comment to the BBC on the issue.
But NCPA head Anoma Dissanayake is much less reticent.
"I do not know at the moment how many Catholic priests or how many Buddhist monks are involved, but we will take stern action against any child abuser irrespective of race, caste or religion," he said.
'Baseless'
Children's Affairs Minister Tissa Karaliyadda told the BBC that he is "shocked and ashamed" over the extent of the problem.
"I noticed what kind of minor sentences the perpetrators are getting," the minister said. "We need tougher laws that if necessary do not fall too far short of the death sentence."
However Mr Karaliyedda rejected accusations that political leaders are trying to influence the judiciary to get culprits released.
"The president has clearly instructed us to implement the law irrespective of [a person's] status," he said.
The assistant secretary of the All Island Buddhist Council, Kalutara Somarathana Thera, says that many abuse accusations levelled at Buddhist monks are "baseless" – although there needs to be proper research on the "small minority" of monks that do commit such crimes.
Human rights lawyers such as Chandrapala Kumarage, meanwhile, argue that the Sri Lankan media are failing to expose abuses – "especially when it comes to politically or socially powerful figures".
(For updates you can share with your friends, follow TNN on Facebook and Twitter )