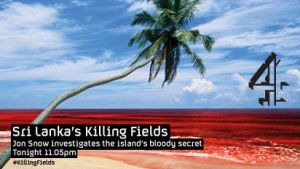 A Channel 4 News film about the horror in Homs and Sri Lanka's Killing Fields documentary are recognised at the Amnesty International Media Awards.
Mani, the journalist behind Channel 4 News's report into the bombardment of Homs in Syria, has been honoured with the Gaby Rado award.
Named after the foreign correspondent who died in 2003, the award is for journalists who are new to human rights issues. Mani, previously a teacher, decided to expand his love of photography into a journalism career in 2009.
Sri Lanka's Killing Fields, the documentary produced by ITN Productions for Channel 4, and presented by Jon Snow won the documentary category.
'Compelling'
Mani's first film (watch above), which aired on Channel 4 News in February 2012, provided unprecedented clarity amidst an onslaught of grainy, unverified images from the besieged town of Homs.
It was described by judges as "moving, powerful and compelling" and has been commented on by politicians here and across the international community.
Mani's film was also shortlisted in the TV news category, losing out to Newsnight's Sue Lloyd-Roberts. A judge in that jury said "Mani is the future." Jonathan Miller's reports on Sri Lanka for Channel 4 News were also highly commended in that category.
In his speech, Mani thanked Head of Foreign News Ben De Pear and Deputy Foreign Editor Nevine Mabro who brought the footage in to Channel 4 News and produced it.
Jim Gray, editor of Channel 4 News, said: "Mani's material was the epitome of everything Channel 4 News stands for – a spotlight on injustice, an important story told well.
"With the direction of the team here, this material became the first clear account of what was really happening in Homs. it deserves the global impact it has had, and it is fantastic to see that impact recognised by an organisation like Amnesty."
(For updates you can share with your friends, follow TNN on Facebook and Twitter )