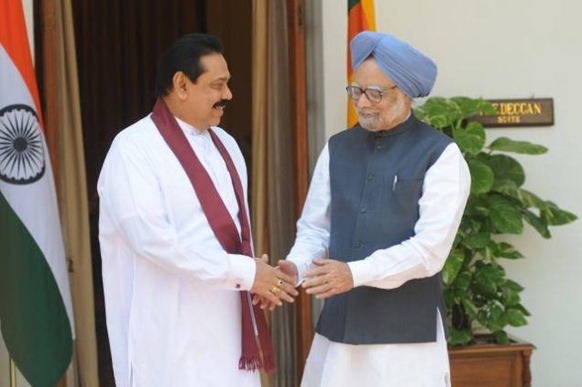 When Prime Minister Manmohan Singh meets Sri Lankan President Mahinda Rajapaksa on the sidelines of the G-20 summit in Los Cabos, it will be their first meeting after India voted against Sri Lanka at the United Nations Human Rights Council session in Geneva earlier this year.
Dr. Singh's hectic schedule, and the fact that he is slated to meet almost all leaders at the G-20 summit, will not permit issues of significance to be taken up at length at this meeting, but it will provide an opportunity for both sides to flag the niggling problems that have come to dominate the India-Sri Lanka discourse in the past two years.
Dr. Singh met Mr. Rajapaksa on the sidelines of the 2011 SAARC summit at Addu City, and on the sidelines of the last session of the United Nations General Assembly. The last bilateral meeting between the two leaders was in New Delhi in June 2010. The Prime Minister has met all other south Asian leaders — barring Pakistan — in bilateral fora in the past year.
Ever since the Tamil Tigers were vanquished in Eelam War IV in May 2009, India has been pushing for a political solution that accommodates the legitimate aspirations of the Tamils in the Northern Province. Sri Lanka has consistently promised that it will offer a political solution.
Three years after the war, the solution is caught up in semantics and hyperbole, and there has been little concrete action, barring local body polls conducted in the province. The comprehensive victory of the Tamil National Alliance, the only credible political formation that represents the Northern Tamils, in the local body polls has made further progress impossible: the Northern Province remains the only one in the country without an elected council.
With the perception in Colombo solidifying against India after the Geneva vote, Sri Lanka has embarked on a conscious effort to win friends across the world. Mr. Rajapaksa has been to Thailand, Qatar, South Korea, Singapore, Pakistan, apart from attending the Queen's Diamond jubilee in England. He is now in Cuba, will visit Brazil and attend the G-20 plus summit. He is scheduled to attend the coming NAM summit in Tehran, and also the next session of the United Nations General Assembly.
(For updates you can share with your friends, follow TNN on Facebook and Twitter )