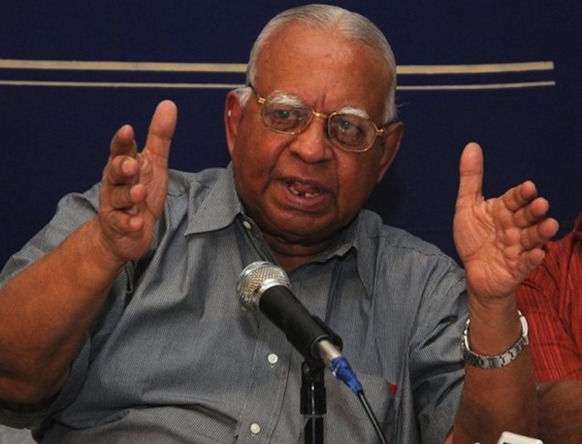 Tamil National Alliance (TNA) leader, Rajavarothiam Sampanthan, says that land grabbing in the North and East as among the issues he discussed with visiting Indian National Security Adviser, Shivshankar Menon on Friday.
Sampanthan said that the issue of a political solution to the ethnic question was the main point of discussion, but that they had also brought up matters pertaining to the Parliamentary Select Committee and the 'ground situation' as well.
"I also told him about land grabbing and excessive land being taken over for military purposes and how the demographic composition of the Northern and Eastern Provinces is being further radically altered as a result," said Sampanthan.
He also said that, "It was a very constructive meeting. Mr. Menon has come here as the envoy of the Indian government to convey certain messages to the Sri Lankan government with regard to a political solution and to emphasize that India's position with regard to this matter is consistent and continues. This is the view of the Indian government and the whole of India… that there must be an early acceptable political solution to the Tamil question in Sri Lanka, which gives the Tamil people their self-respect and dignity and gives them an equal status in this country."
Sampanthan added that India is interested in ensuring a political solution "within a united, undivided country" and also said "I think they have conveyed their views to the Sri Lankan government, and they also wanted to share with us their perceptions."
When asked what he expected of the outcome of the meeting, Sampanthan said "I do think that we are now in a different era, where with the end of the armed struggle, the need for a political solution has become more important and is being emphasized more by different sections. And I think this visit must be looked at in a manner very different from the normal round of visits that take place," he said.
(For updates you can share with your friends, follow TNN on Facebook and Twitter )