Occupying Sinhala soldiers of the Sri Lanka Army, on Wednesday, allegedly beat a recently resettled 47-year-old man, Kandiah Jeyarajah, near A9 highway at Ezhuthumadduvaa'l in Thenmaraadchi, Jaffna. The victim succumbed to his injuries while being rushed to Chaavakachcheari hospital, residents in Ezhuthumadduvaazh village told TamilNet Thursday. The wife of the slain victim also confirmed the allegation that the SLA soldiers were involved in the slaying of her husband, who had got into a quarrel with his brother. The SLA soldiers, stationed at the junction had intervened in the private quarrel and when Mr Jeyarajah began to resist, he was severely beaten by the soldiers.
The SLA soldiers, with batons and iron rods, had come to the spot where Jeyarajah was in quarrel with his brother.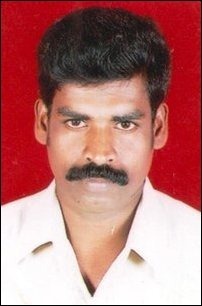 Kodikaamam Police has transferred his body to Jaffna Teaching hospital. The family, fearing further harassment said they would be conducting the funeral in Ariyaalai in Jaffna.
The deceased, a father of two sons and a daughter, had recently resettled in his village.
His house is located close to the A9 highway.
Mr Jeyarajah owned a lorry and the family was dependent on his income.
The occupying soldiers of the SLA are stationed everywhere in Ezhuthumadduvaa'l. They also occupy several private lands and have set up even a restaurant at the junction.
Ezhuthmadduvaa'l is situated near Ki'laali, where Forward Defence Line between LTTE controlled Vanni and SLA controlled Jaffna was situated before April 2009.
(For updates you can share with your friends, follow TNN on Facebook and Twitter )