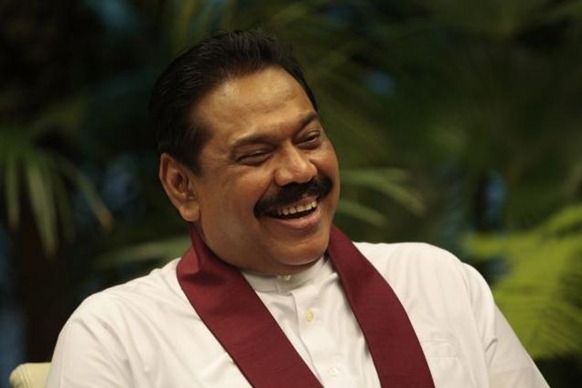 Elections to Sri Lanka's northern provincial council will take just over a year from now. "We want to hold elections in September 2013," President Mahinda Rajapaksa told The Hindu. "We are working towards it [the elections] in a systematic manner."
In an interaction at his official residence, Temple Trees, here, Mr. Rajapaksa said there were many issues to be resolved ahead of holding of elections. The primary one related to the electoral rolls. People who fled when the Tamil Tigers were in power and during the war were still coming in and staking claim to their land and property after the defeat of the Tamil Tigers in May 2009. These people too had to be accommodated in the rolls.
The last rolls were more than 30 years old and had no relation to the current eligible voters in the province.
The second issue was the completion of the rehabilitation and resettlement process. This was on with international support and was expected to be completed soon. Livelihood issues too were being addressed.
The holding of elections hold the key to moving forward on the question of granting Tamils the political space they lacked. In fact, this should have been possible soon after the India-Sri Lanka accord of 1987 (later called the 13th Amendment because the Sri Lankan Constitution was subsequently amended to include this provision), which also had a clause on devolution of powers. Ironically, the amendment benefitted all the other regions — albeit in a very limited manner — and all the provinces, barring the North, had a provincial council.
On the issue of glaring visibility of the Army in all walks of life, Mr. Rajapaksa said he had instructed that the Army should be visible only when required.
Mr. Rajapaksa refused to accept that the Indian vote against Sri Lanka in the United Nations Human Rights Council was because Colombo did not implement the promises it made to the Council in 2009. Insisting that his government had worked on all the promises that were delivered and was serious about fulfilling all undertakings that were given, he said he had even said that he was willing to go beyond the 13th Amendment.
Clarifying for the first time what the plus was, Mr. Rajapaksa said this was the creation of a Senate. "I said 13th Amendment plus. Then Shankar [Shiv Shankar Menon, Indian National Security Adviser] remarked if I meant the creation of a Senate, and I said yes."
Mr. Menon had met Mr. Rajapaksa on June 29 on post-Geneva issues. India is the chair for the Universal Periodic Review at the UNHRC that comes up in November.
Mr. Rajapaksa made it clear that the creation of a Senate and the fleshing out of a solution needed to come from Parliament. "This is [where] the Parliamentary Select Committee is important," he said
(For updates you can share with your friends, follow TNN on Facebook and Twitter )