While the occupying Sri Lanka Army in the city of Jaffna claims on one hand that it is shifting the military base of 512 Division to Koappaay, more lands are being appropriated for military use in the city. The Sri Lankan colonial military governor in Jaffna, Maj Gen (retd) GA Chandrasiri has instructed the Secretary of Education of Jaffna Province, S. Sathiyaseelan to hand over the lands belonging to Sinhala MV, situated in the environs of St. Mary's School, Our Lady of Refuge (OLR) and within a residential area boxed by 4th Cross Street, Hospital Road, Veampadi Road and Martin Road, to the commander of Sri Lankan forces in Jaffna Maj Gen Mahinda Hathursinghe for the construction of a military base in the city.
Details have now emerged that the Sri Lanka Army has begun to construct a permanent military camp in the lands that belong to Sinhala MV School, which comes under the management of the provincial education ministry in the city.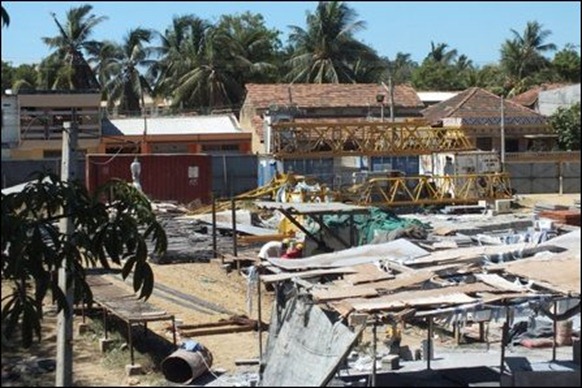 SLA has appropriated lands from Northern provincial ministry of education at Jaffna city
The occupying Sri Lankan forces are already maintaining a 'Civil Affairs and Public Relations Office of Security Force HQ Jaffna' on Hospital Road near the OLR church.
The so-called civil affairs camp has been a notorious establishment of the SLA in city, from where it carried out extra judicial white van abductions. This camp is situated in the lands that have already been appropriated from private land-owners, north of Hospital Road.
The office of Sri Lanka Human Rights Commission is also situated in the area.
The SL military, claiming that it was closing down the main base of 512 Division, situated in the lands comprising Gnanam Hotel and Subas Hotel, appropriated a much larger area in Koappaay after destroying Tamil Heroes Cemetery.
At the same time, the SL military has grabbed more lands in the suburbs of Jaffna city, such as along Pa'n'nai and the coastal areas, grabbing much more lands than what it handed back.
Despite facing legal disputes, the SLA has occupied a large number of private lands also in Naavatkuzhi and in Kaakkaitheevu in the suburbs of the Jaffna city.
The SL military is strengthening its military grip on the city of Jaffna with a long-term colonial military perspective of Sinhalicisation and colonisation, political observers in Jaffna said.
(For updates you can share with your friends, follow TNN on Facebook and Twitter )