Protesting against the participation of Sri Lankan sportspersons and the presence of the Sri Lankan delegation for the 2012 London Olympics, Eezham Tamils in the UK gathered in hundreds at Aspen Way, London on Friday, expressing their opposition to the legitimacy given to the Sri Lankan state that is accused of committing genocide. Sources in London, citing the British police, said that the Sri Lankan delegation did not attend the opening ceremony out of choice. However, the delegation invited by the IOC, were not compelled by the UK authorities not to attend. Speaking to TamilNet, Sasithar Maheswaran from the TCC-UK said "The British government ought to take note of the sentiments expressed repeatedly by the Tamils on the streets. An EU wide travel ban against current and previous leaders who have committed the crime of genocide against the Eezham Tamils is long overdue."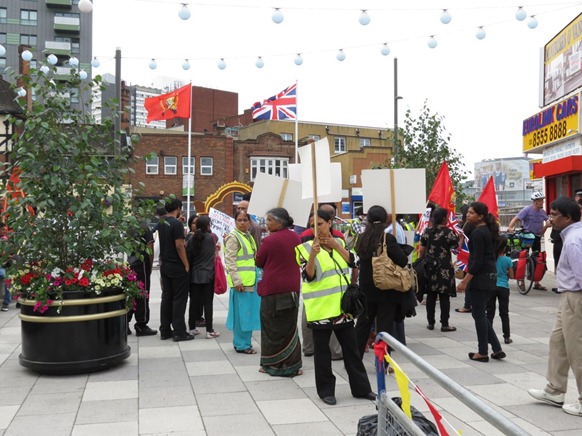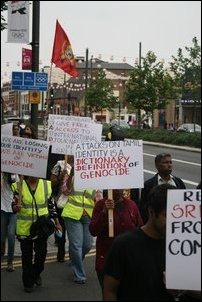 "While these protests show that the UK allows freedom of speech and right to demonstrate, their repeated occurrences with respect to the credibility given to Sri Lanka also highlight UK's disregard for the Convention on the Prevention and Punishment of the Crime of Genocide," he added.
Sri Lankan President Mahinda Rajapaksa's presence in London was rumoured, but not confirmed.
Another protest happened near Marshgate lane, near the main entrance to the Olympics Park. However, the demonstrators had to assemble 200 yards before the promised venue as the police prevented them citing security reasons.
Tamils also gathered at the site in Stratford where Gobi Sivanthan is entering his 6th day of hunger strike, to convey solidarity with the youth activist's protest.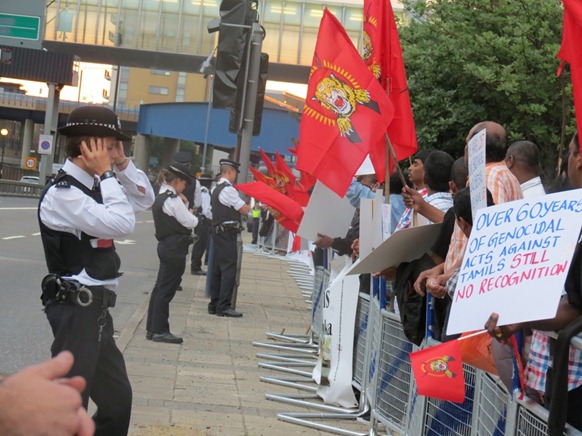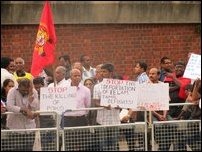 Sivanthan, who has undertaken the hunger strike with five demands with special attention to the "ongoing genocidal land grabs", called for a UN referendum among the Eezham Tamils as a nation to exercise sovereignty over their homeland.
"Eezham Tamils are denied their rightful place in global celebrations such as the Olympics because a self-serving world order is determined to assist the Sinhala nation to commit the ultimate crime of genocide against us," Sivanthan told TamilNet.
Separately, conveying solidarity with Sivanthan's demands and remembering Black July, a demonstration was also held at Lausanne in Switzerland on Friday.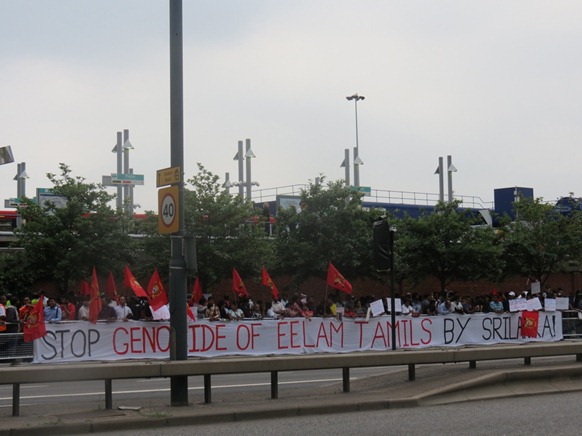 (For updates you can share with your friends, follow TNN on Facebook and Twitter )