Criticizing the UN for collaborating with vested interests of world powers in denying a just political solution for the Eezham Tamils, Thirumurugan Gandhi from the May 17th Movement said that Tamils should direct their protests against the UN asking for an internationally monitored referendum to resolve the national question of the genocide affected Eezham Tamils at a demonstration held at Valluvar Kottam, Chennai on Saturday. Speaking to TamilNet, Mr. Gandhi said "The single point common demand of Tamils world over should be to demand for a referendum for Tamil Eelam," adding that talks about rehabilitation and 'step by step approach' without addressing the fundamental demand for political freedom was useless, only giving legitimacy to genocidal Sri Lanka.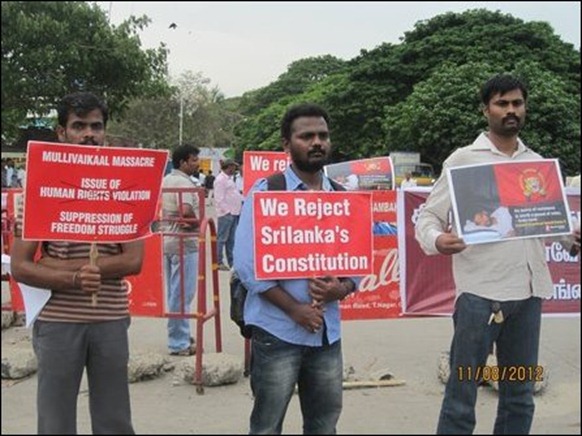 At the demonstration in Chennai, Mr. Gandhi observed that the trends of military-corporate nexus in the North-East were deployed to build Special Economic Zones in the Tamil homeland, after depriving the Eezham Tamils of their lands. Similarly, 'rehabilitation' was used as a ruse to create a labour force and a market for Indian corporates.
He further strongly condemned John Ging, the Director of the Coordination and Response Division of the UN Office for the Coordination of Humanitarian Affairs, for endorsing the 'rehabilitation' process of the war crimes and genocide accused Sri Lankan state, claiming that this was an irresponsible position to take by an institution like the UN.
The demonstration was organized by TN political activists to convey solidarity with the demands of Eezham Tamil youth activist Gobi Sivanthan, who is entering the 22nd day of his hunger strike. University students, journalists, academics, IT sector employees, and a broad range of civil society activists participated at the demonstration.
Tapasi Kumaran from the PDK, Mallai Sathya from the MDMK, Aruna Bharathi from the Tamizh Desiya Pothuvudamai Katchi, and Prof. Saraswathi from the Friends of TGTE also spoke at the demonstration.
Prof. Saraswathi said that the de facto state that was established with the popular support of the Eezham Tamils was broken by the India and world powers.
Gobi Sivanthan addressed the gathering through phone, conveying his regards for the support shown by TN Tamils for his non-violent protest. He further said that principled position for Tamils world over to take is to never compromise on freedom of Tamil Eelam.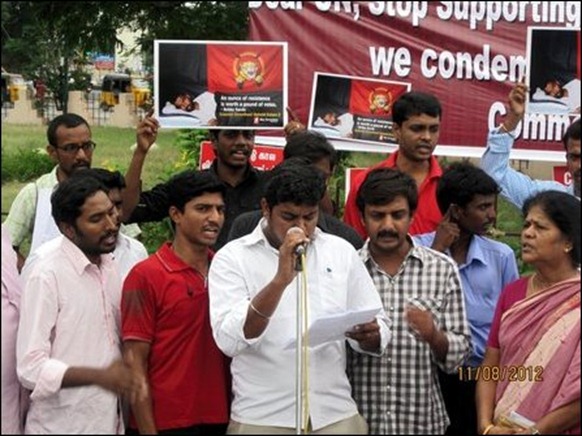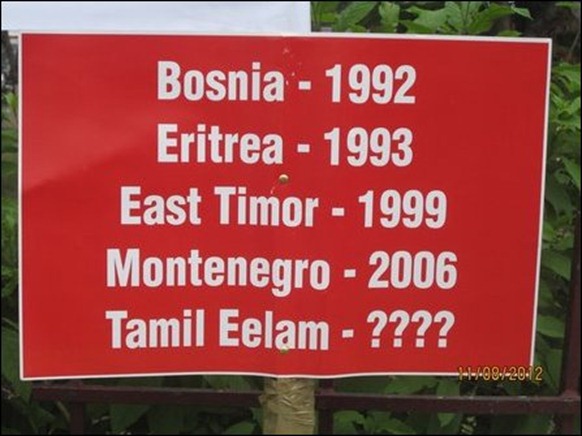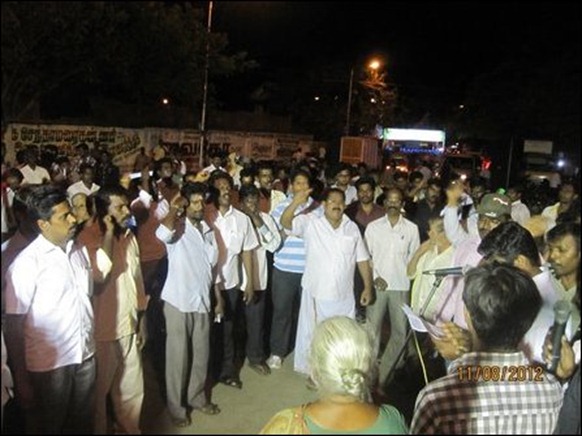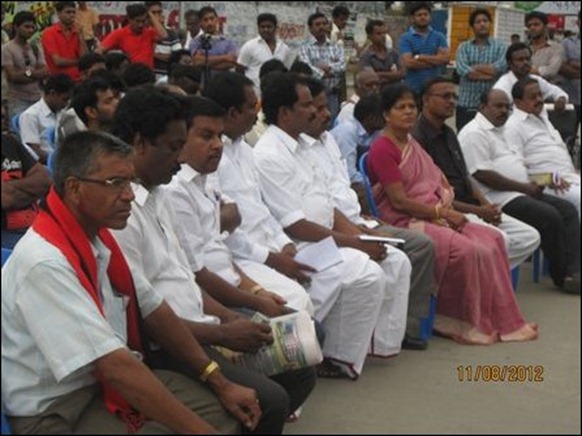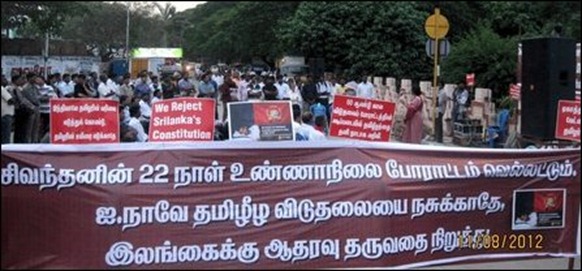 (For updates you can share with your friends, follow TNN on Facebook and Twitter )