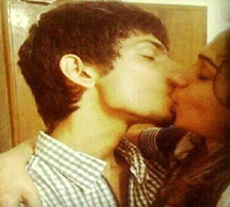 All of a sudden, the film-based websites and other social networking sites are flooded with photographs showing a rather unusual couple engaged in a 'hot' lip-lock.  The couple in the 'sexual act' involved the boyish-faced, teenaged upcoming music director Anirudh and actress Andrea Jermaiah.
Except for the first alphabet of their names, few would have found anything in commom between the composer and the scorcher.  The talented Andrea is yet to deliver a single hit on her own as an actress and is playing one of the two heroines along with Pooja Kumar in 'Ulaganayagan' Kamal Haasan's highly-expected Viswaroopam which would soon be releasing in theatres.
Anirudh made waves across the globe last year through the immensely popular Why this Kolaveri di number from 3 which was his debut film as a music director.  As readers are aware, Anirudh is the son of Ravi Raghavender, brother-in-law of superstar Rajinikanth and brother of Latha Rajinikanth.  Anirudh is yet to take up other film offers after 3 and now comes this news.
Photographs showing Anirudh and Andrea engaged in a hot 'lip-lock', the kind of kissing sequences one usually associates with Hollywood films, have shocked the fans of both.  The teenager has got some distance to go before gaining recognition as a compower while Andrea, who also sings songs in films, doesn't have any such ambition as such.
The vast age difference is what makes the matter more worse: Anirudh is 18 and is at least a decade younger to Andrea.  Whether it's a love affair or an act borne out of lust remains to be seen.
(For updates you can share with your friends, follow TNN on Facebook and Twitter )