The Tamil Nadu Chief Minister Ms. J. Jayalalithaa on Tuesday reiterated her demand to immediately halt training to Sri Lanka's defence personnel at the Wellington base in Tamil Nadu and send them back to Sri Lanka. She expressed surprise about her earlier demand being responded with an open declaration by New Delhi to continue training to Sri Lanka's military personnel in India, on grounds that Sri Lanka is a friendly country. "This betrays the total insensitivity on the part of the Government of India towards the views of my Government as well as the sentiments of the people of Tamil Nadu," she said in an official letter addressed to the Indian Prime Minister, adding that the Government of India should give up "condemnable attitude."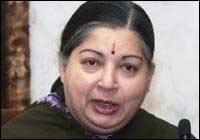 The Tamil Nadu Chief Minister in her demand gets support from the DMK chief Mr. M. Karunanidhi, National Secretary of the Communist Party of India Mr. D. Raja and many others.
Even the Tamil Nadu Committee of the ruling Congress Party of Sonia Gandhi couldn't escape from coming out with a statement that it requests the Centre to remove the SL military personnel away from Tamil Nadu (not sending them out of India).
PDF: Letter from Tamil Nadu CM Jayalalithaa to Indian PM Manmohan Singh
In a press statement on Tuesday, the Tamil Nadu Congress Committee (TNCC) President, Mr B. S. Gnanadesikan defended India giving training to military personnel of other countries in its bases, on grounds of international and SAARC agreements.
He didn't mention a crucial point that beyond international practices and SAARC agreements, Sri Lanka's genocidal military has a special 'military to military' relationship with the Indian military to get such training.
PDF: Statement from Tamil Nadu Congress
Mr. Gnanadesikan also claimed that it was by the efforts of the TNCC on an earlier occasion, the Indian Defence Minister Mr. A K Antony transferred 9 SL military personnel getting training in Tamil Nadu to other states.
According to Indian constitution, residential status comes under the purview of the states.
Entry of a foreigner into the country is regulated by the Centre and its foreign missions. But once a foreigner entered into India, the residence is regulated by the state.
When a state objects to the presence of a foreigner, the GOI is normally obliged to send that person out of the country.
Even when the GOI on its own wants to send a foreigner out, the Centre doesn't convey the order directly to the concerned person. It is conveyed through the state where the foreigner resides.
Perhaps this is the first time the Government of India has seriously put itself at loggerheads with a state, in matters related to its military's foreign interests and residence of foreign personnel.
Once again the establishment in New Delhi has chosen Tamils to test the case, as it tested the model of genocide with Eezham Tamils for its imperial inroads.
(For updates you can share with your friends, follow TNN on Facebook and Twitter )