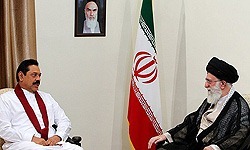 Iranian Supreme Leader Ayatollah Seyed Ali Khamenei said Iran and Sri Lanka proved that resistance against hegemonic powers is possible.
Speaking in a meeting with Sri Lankan President Mahinda Percy Rajapaksa in Tehran on Friday, Ayatollah Khamenei urged closer friendly ties among Muslim nations in a move to empower them on the international scene and secure wider interests.
He said hegemonic powers try "to portray themselves as invincible, but Iran and Sri Lanka's experiences show that resistance against colonialists and hegemons is possible".
The Iranian supreme leader further praised Sri Lanka's support for the Palestinian nation and its respect for the Muslim community in the South Asian nation, and welcomed the Sri Lankan president's willingness and emphasis on the expansion of relations with Iran.
The Sri Lankan president, for his part, praised the Supreme Leader's remarks at the inaugural ceremony of the Non-Aligned Movement, and lauded his "proposal for a nuclear free Middle-East" and his "stance on Palestine".
He noted his country's campaign against terrorism as well as its efforts to observe the rights of the Muslim minority in Sri Lanka, and added, "We are ensured that we can overcome many problems through your aid and assistance."(Farsnews)
(For updates you can share with your friends, follow TNN on Facebook and Twitter )