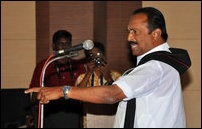 (TruthDive): Ex MP and Marumalarchi Dravida Munnetra Kazhagam (MDMK) chief Vaiko  was on one day fast  in continuation of the  relay fast to support the struggle of Senthooran. Confined in the special refugee camp in Chengalpet,  Senthooran is undertaking a fast for the past 26 days with a request to transfer the Ealem Tamils from  special camps to open camps. Senthooran refuses to take even a drop of water for the past 10 days and his condition is deteriorating.
Senthooran was initially arrested in Devakottai for arriving without any valid documents. He was confined in Chengalpet special camp for six months. Later he was taken to Kerala where the court released him. He was again brought to Chengalpet by Tamil Nadu Police. After resorting various kinds of protests Senthooran is on an indefinite fast now. His aunty who came from Colombo to meet him died due to heart attack. Senthooran is undertaking fast for the cause of 47 such refugees.
During his fast on support of Senthooran Mr Vaiko has spoken to his party cadres. He also touched upon some other issues in Tamil nadu politics
"Senthooran  has not done anything against India. The Government of Tamil Nadu should save him.

All Tamils requested the Indian Government not to impart training to Sri Lankan Army in India. But the training Continues in Bangalore. Does it mean Tamil Nadu is not in India?

If I speak like this they will say that I spoke against the Sovereignty of India.  But I don't care about it."
Mr. Vaiko who is the staunch supporter of LTTE was in jail for several months for lending his support through his speech. Earlier this month he was allowed to put his arguments in a tribunal in support of lifting ban on LTTE in India.
Although Vaiko speaks vociferously and is known to issue  controversial statements he has never organised any violent struggle and is known to be a good parliamentarian. He is also a believer in National Integration. However the media in India has stamped him a separatist and supporter of terrorist organisation. The Main stream media in which many illiterates of history are given columns to write have distorted the History of Ealem and Tamil nadu politics.
The Government may not respond to these kinds of fast as it is neither reported much in media  like the fast by a lady in North East or a fast by a fake Gandhian with Congress cap in New Delhi.
However these kinds of questions when asked by a person like Vaiko must be addressed by the Government or media by wide discussion and the truth must be understood.
The question is why India ignores its own citizens and supports Sri Lanka?Why India cannot address human rights violations within its territory? Why BJP or Congress party discriminates between Hindu refugees from Pakistan and Hindu refugees from Sri Lanka?
If such questions are not answered it is also difficult to answer the question of Vaiko whether Tamil nadu is in India or not.
(For updates you can share with your friends, follow TNN on Facebook and Twitter )