Sri Lanka's civil war may have ended in 2009, but peace still eludes many of its citizens.
Already under fire for the indiscriminate bombing of civilian areas during the final stages of the war, the country also saw a UN resolution passed against it for failure to implement the recommendations of its own Lessons Learned and Reconciliation Commission (LLRC). And now Sri Lanka is finding it increasingly difficult to completely ignore the reports of civilian abductions in the country.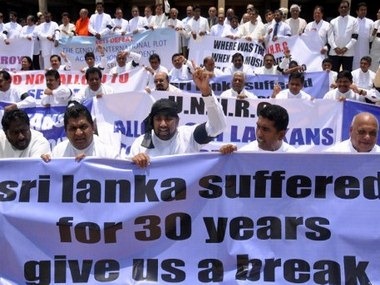 Sri Lankan citizen journalist website Groundviews, run by the Centre for Policy Alternatives think tank, has compiled a list of abductions/disappearances as reported in the country's mainstream English media, and concluded that the country sees disappearances occur at a rate of one every five days.
The report said, "Twenty one disappearances (including attempted abductions) have been reported by Sri Lanka's English media in the 100 days between April 1st and July 9th 2012."
It adds, "Out of the abductions reported by the media, the police are reported to have made arrests in three cases. Eleven victims are reported as released by the abductors, four abductions were reported as foiled, and the body of a victim reported as abducted, was recovered. Five of the 11 released have publicly accused the Government's involvement in their abduction."
The harassment and abduction of civilians, including human rights activists and journalists was one of the issues brought up against the Sri Lankan government at the UNHCR convention that saw a resolution passed against the government.
The issue has been largely denied by the Sri Lankan government, but the Groundviews report notes that the Ministry of Defence has recently broken its silence on the issue and responded to some of the media reports.
The report says, "In the text of the article the MoD stated that "Of the 56 purportedly disappeared only 18 have been reported as actually missing." However in the breakdown of numbers provided in a chart by the MoD, it admits that in addition to the 18 missing, 10 people were released after abduction, the bodies of 5 people reported abducted were found and another five people were found in police custody.
This effectively means that the Ministry of Defence has itself admitted that 38 abductions (including those foiled) took place in Sri Lanka between the period of October 2011 and March 31 2012.
The Defence Ministry in its statement has sought to justify some of the abductions, saying "Law enforcement authorities have carried out extensive investigations into these disappearances and come up with startling information about these individuals and their dealings".
(For updates you can share with your friends, follow TNN on Facebook and Twitter )