12.5 million Sinhala Buddhist visitors from the South have toured Jaffna peninsula during the last three years, from July 2009 to August 2012, according to the statistics released by the statistics division of the occupying Sri Lankan military in Jaffna. Highest number of visits was recorded in August 2012, when more than 100,000 southerners visited the peninsula. At least 80,000 of these visitors have been to Nagadipa vihara at Nayinaatheevu, an islet off Jaffna during the last month. In the meantime, the Eezham Tamil people of the peninsula, numbering less than 600,000 and the resettling people of Vanni live in a parallel universe without communication with the visiting Sinhalese, who are looked after by the occupying SL military and 'civil' administration.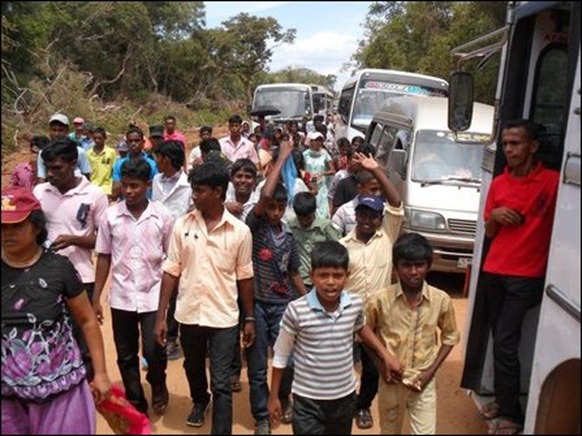 Almost all those who visit the Jaffna peninsula also visit Puthukkudiyiruppu (PTK) of Mullaiththeevu district in Vanni.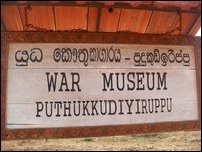 The main 'attraction' projected to the Sinhala visitors in Vanni is an underground bunker, which the SL military claims as used by LTTE leader Mr V. Pirapaharan in Puthukkudiyiruppu earlier.
In addition, Tiger armoured vehicles and Sea Tiger gunboats have been put on display in an exhibition centre to project a 'victory image' to the SL military in the land of genocidal onslaught.
All the infrastructure, from the roads built with foreign 'development' assistance, the Buddha statues that erected near SL check posts and the small businesses that have mushroomed along the A9 and other 'tourist' spots have been designed and implemented to give comfort to the visitors from the South, while the resettling people of Vanni are struggling without proper roof, struggling for day to day life.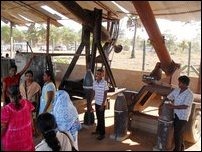 Eezham Tamils silently observing the 'alien' visitors avoid interaction with them to escape controversies with the occupying SL military.
The SL State has been nurturing the Mahavamsa mindset and a blatant form of racist superiority through its military occupation, suppression and display of military victory, which was abetted by world powers.
However, regardless of the 'victory' projection by the SL military, some southerners who visit the exhibition also comment that Tamils have been rising up again in the past despite all odds.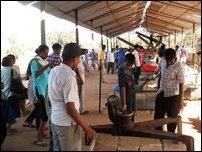 In the meantime, former SL president Chandrika Kumaratunga, on Monday visited Jaffna after 40 years in a confidentially organised trip to Ariyaalai and Achchvuveali villages.
Although the organisers said she had come to inspect the assistance provided by her NGO that had gifted solar panels six months ago to 100 families in these two villages, Ms Kumaratunga displayed much more interest in reading the minds of the people with regards to LTTE and its leader V. Pirapaharan, posing questions to people whom she met on her house to house visit, news sources in Jaffna said.
Ms Kumaratunga was provided high security during the visit.
(For updates you can share with your friends, follow TNN on Facebook and Twitter )