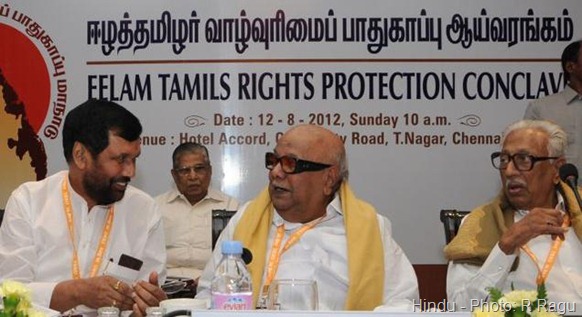 The Tamil Nadu Government's action in sending back Sri Lankan school football teams and attacks targeting Christian pilgrims from the neighbouring nation evoked adverse reactions from the Dravida Munnetra Kazhagam (DMK) and the CPI (M) on Tuesday.
Distancing himself from the strident stand of Chief Minister Jayalalithaa, who ordered that the football team be sent back and the suspension of a stadium officer for allowing a game at a State-owned facility, DMK president M. Karunanidhi made it clear that his party was only opposed to the training of Sri Lankan military personnel in India. It would not agree with moves such as sending back football teams and attacking pilgrims from that country.
CPI (M) State secretary G. Ramakrishnan condemned the attack on Sri Lankans in Tamil Nadu as well as the State Government's decision to send back football teams. People-to-people relations between the two countries should not be allowed to suffer, he said.
Talking to reporters, Mr. Karunanidhi said that sportspersons, particularly cricketers from Sri Lanka, had been visiting India and Indian cricketers played in Sri Lanka. "These sporting ties are there for a very long time."
Asked whether the attack on Sri Lankan pilgrims visiting Velankanni would not lead to adverse consequences, the DMK leader maintained that his party was only against the training of Sri Lankan Army personnel.
"If we have lost a lot of Sri Lankan Tamils and their families, it is because of the Sri Lankan Army. That is why we are opposing the training and raised the issue in Parliament."
Mr. Karunanidhi, however, said that his party would not wholeheartedly welcome the reception to be accorded to Sri Lankan President Mahinda Rajapaksa, who, he alleged, was responsible for the killing of lakhs of Tamils.
Mr. Rajapaksa is to lay the foundation stone for a Centre for Buddhist Studies at Sanchi, Madhya Pradesh, on September 21.
'"I do not like to say anything more," Mr. Karunanidhi added.
The CPI (M) Polit Bureau also expressed its concern at the "hostility displayed towards the people from Sri Lanka who are visiting Tamil Nadu."
Quoting the Polit Bureau statement, Mr. Ramakrishnan said such incidents would only aggravate the situation in Sri Lanka and would not help in finding a solution to the problems of Tamils, who continued to suffer even though the war was over three years ago.
"The Sri Lankan Government failed to find a political solution to the problems of the Tamils. They are being denied civil rights and not given a status on a par with the Sinhalese. The army continues to be present in Tamil areas and India should use its diplomatic relations to find a solution."
(For updates you can share with your friends, follow TNN on Facebook and Twitter )