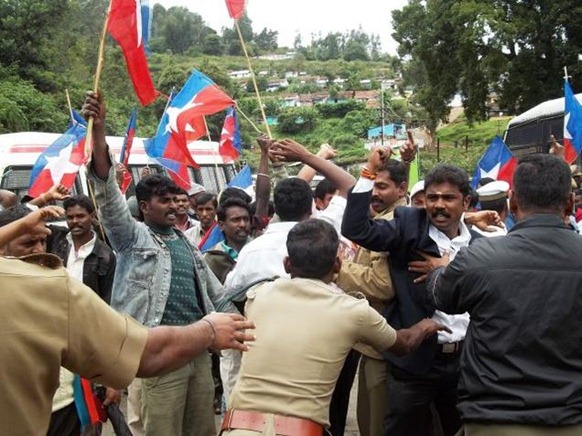 The Sri Lankan government's move follows a travel advisory against visits to Tamil Nadu. Even as India assured that all measures would be taken for the safety of Sri Lankans, a group of pilgrims in Tamil Nadu faced protests for the second day
The Sri Lankan government is arranging a special plane on Tuesday to fly out visiting pilgrims following protests in Tamil Nadu even as India assured that all measures would be taken to ensure safety and security of Sri Lankans in the country. A spokesperson for the External Affairs Ministry said the Centre was in "close consultation" with the concerned state governments regarding this.
Sri Lanka Deputy High Commissioner R K M A Rajakaruna told PTI that the group would be leaving on Tuesday. "We get reports that some people follow the pilgrims group, intimidate, abuse and even attack them with stones," he said.
The Sri Lankan government evaluated the situation as the people "appealed to us to arrange to send them back to Sri Lanka," he said. "We thought it would be advisable to arrange their quick eviction from here," the envoy said.
Meanwhile a batch of 178 Sri Lankan nationals on a pilgrimage in Tamil Nadu faced protests for the second day today with a pro-Tamil outfit trying to block their vehicles when they were returning after offering worship at the famous Velankanni shrine near Nagapattinam.
Police, however, intervened swiftly by arresting nine activists of the Naam Tamizhar Iyakkam with pro-LTTE leanings, who tried to block the seven buses carrying the pilgrims. The Lankan nationals faced similar protests during their pilgrimage to the Poondi Madha Christian shrine near Thanjavur on Monday.
The Indian government's assurance follows the travel advisory issued by Sri Lanka asking its citizens not to visit Tamil Nadu until further notice in the wake of "increasing number of instances of intimidation" of Sri Lankans there.
"I wish to convey here that the Government of India, in close consultation with the concerned state governments, has taken and will continue to take all measures to ensure the safety, security and well-being of Sri Lankan dignitaries and visitors to India, including to Tamil Nadu," an official spokesperson in the Ministry of External Affairs said when asked about the advisory by Sri Lanka.
The spokesperson also said, "In certain instances, it has been noticed that important visits have taken place without prior intimation to the concerned authorities."
Emphasising that people-to-people contacts are an integral part of the close historical, cultural, ethnic and civilisational ties between India and Sri Lanka, he said, "Our High Commission in Colombo issued visas to nearly 200,000 Sri Lankan nationals to visit India last year, while approximately 175,000 Indian tourists visited Sri Lanka in 2011. "It is this perspective that guides all our actions on such matters."
The Lankan travel advisory says, "the government of Sri Lanka regrets the increasing number of instances of intimidation of its nationals visiting Tamil Nadu for the purposes of tourism, religious pilgrimages, sporting and cultural activities and professional training."
(For updates you can share with your friends, follow TNN on Facebook and Twitter )