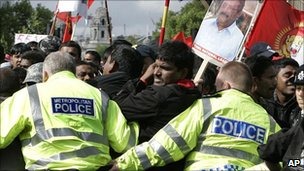 Up to 60 Sri Lankan Tamils are being deported from the UK on an overnight charter flight, despite warnings they may face torture on their return.
UK officials say those being sent back include failed asylum seekers and visa overstayers.
The flight departed from the UK late on Wednesday, despite last-minute legal pleas against the deportation.
The Sri Lankan government says those being sent back will not be mistreated.
Presidential adviser Rajiva Wijesinha said Britain itself had established that returnees would not be tortured. He said most of those being deported were economic migrants.
Britain says that unless a Sri Lankan Tamil was a high-level activist with the separatist Tamil Tiger rebel group, he or she is unlikely to be targeted on returning to Sri Lanka.
But human rights groups such as Freedom from Torture and Human Rights Watch argue that Tamil people either linked or perceived to be linked to the Tigers – at any level – are at risk if they return.
One Tamil man due to be sent back told the BBC: "Instead of getting killed there I would far rather commit suicide in the UK."
The man, who asked not to be named, said that he would be singled out by the authorities because his uncle was a well-known Tamil Tiger rebel. He said that he had never been a member of the group, although he did run errands and was a courier on their behalf.
"The Tamil Tigers during the war were seen to be a movement representing legitimate Tamil aspirations and grievances," he said.
A man now on his second asylum application in Britain said he was beaten, deprived of sleep and almost suffocated in polythene and petrol by the Sri Lankan police, the BBC's Charles Haviland in Colombo reports.
The UK Border Agency says the removal of a person only happens where it is satisfied that he or she has no protection needs.
(For updates you can share with your friends, follow TNN on Facebook and Twitter )