Criticizing both the BJP led Madhya Pradesh state government and Congress Party for inviting SL President Mahinda Rajapaksa for a Buddhist event in Sanchi, MDMK leader Vaiko told reporters "Despite knowing that Rajapaksa is solely responsible for the genocide of innocent Tamils in Sri Lanka, the Shivraj Singh Chouhan government in Madhya Pradesh has invited him and the Centre endorsed his visit," a PTI report on Thursday said. As Mr. Vaiko and the MDMK cadres attempted to march to Sanchi today, all were arrested and have been temporarily detained at a location nearby, sources told TamilNet. Separately, a correspondent for The Hindu reported today that "It was an ironical scenario in Bhopal as a President accused of genocide arrived here on Thursday to inaugurate a ceremony on world peace."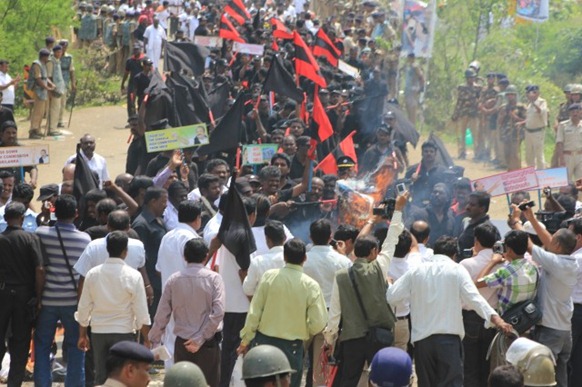 Protest by MDMK in Madhya Pradesh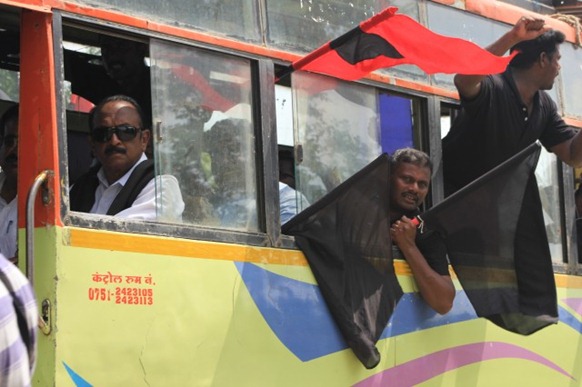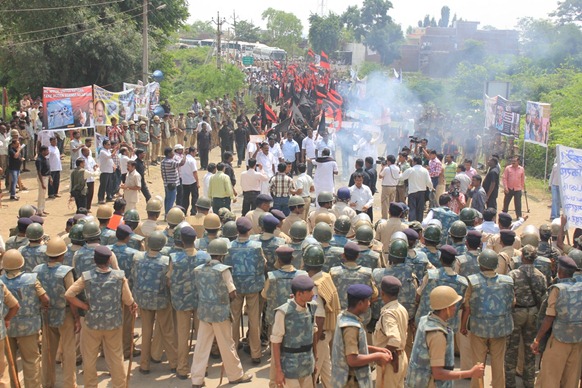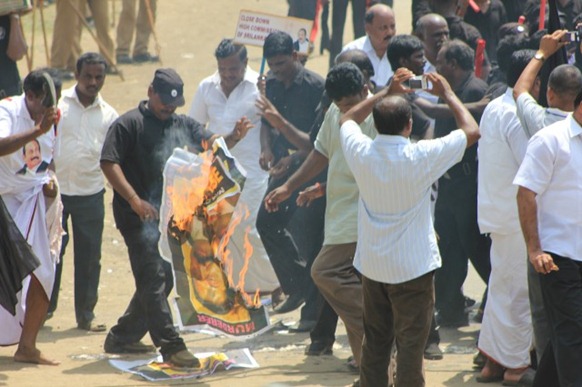 However, this irony is lost not just on the "national" political parties in India but also on the mainstream Indian media, political observers in Tamil Nadu said. An editorial by the Economic Times bureau on Friday for instance instead of condemning the presence of a genocide-accused political leader, has criticized the Tamil Nadu protestors for opposing "the Sri Lankan president's visit to India as a great opportunity to show off their zeal in support of Lankan Tamils."
Likewise, the PTI, citing Sri Lankan High Commission sources, reported on Thursday that the Indian President Pranab Mukherjee complimented Rajapaksa for Sri Lanka's 'economic progress'.
Prior to their arrest, effigies of the SL President were burnt by the MDMK activists at the Badhchicholi village where they had been stopped by the Madhya Pradesh police from entering the state. Also, villagers from hamlets nearby joined the protestors. Hindi CDs on the genocide of the Eezham Tamils were circulated by the MDMK activists.
Also, a few MDMK activists who managed to reach Bhopal through other transportation were arrested by the state's police there.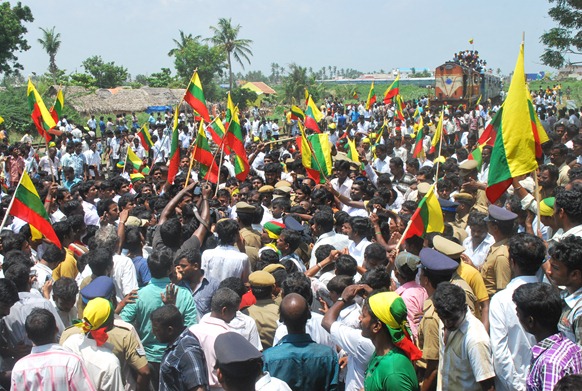 Protest by TVK in Tamil Nadu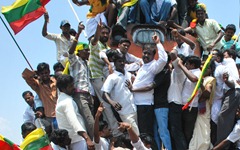 Numerous protests have been erupting across Tamil Nadu as well. Over 10000 cadres of Tamizhaga Vaazhvurimai Katchi (TVK) staged a rail blockade demonstration at Cuddalore on Thursday. Activists of the party staged similar demonstrations on all major rail routes in Tamil Nadu.
Over 2000 of the TVK's cadres along with leaders Velmurugan and Prof. Dheeran, Porur Shanmugam, and Kamarajar were arrested for demonstrating in front of Chennai Central station today.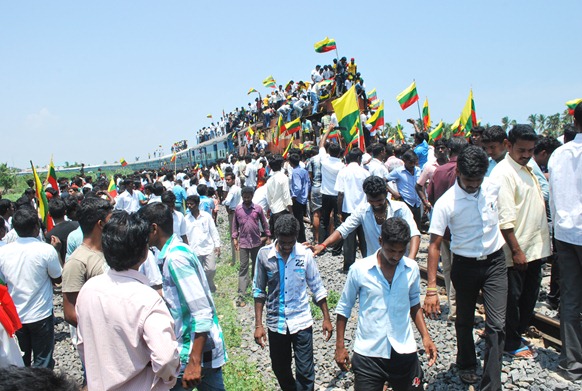 (For updates you can share with your friends, follow TNN on Facebook and Twitter )