When people of Mullaiththeevu for the first time in last three years gathered in hundreds in front of the district secretariat on Friday, to demand resettlement in their village at Keappaa-pulavu in the district, the occupying Sinhala military deployed in large numbers responded with intimidation of taking videos of the demonstrators and by arranging a gang to throw human excretion at them. After throwing dirt the gang escaped by getting into a nearby SL police station. Later, a motorbike gang followed the vehicle in which Mr S. Kajendran was returning from the demonstration to attack it near Mu'l'liyava'lai. Another gang, in the very presence of SL military, attacked the vehicle in which Dr. Wikramabahu Karunaratne and Mr Gajendrakumar Ponnampalam were returning via Paranthan road. A vehicle of media persons was also attacked.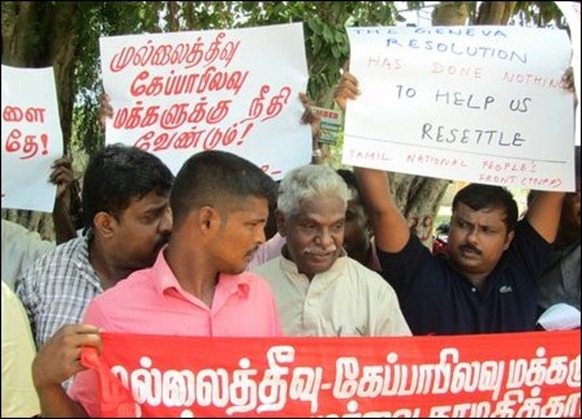 Barbed wires placed to puncture tyres ambushed Mr. Kajendran's vehicle at an open and lonely stretch of the road, when the motorbike gang that was following the vehicle started attacking the vehicle and the passengers inside. Mr. Kajendran drove the vehicle away in punctured condition to escape from the attackers.
The demonstration organised by the Tamil National Peoples Front (TNPF) was attended by TNA parliamentarian for Vanni, Mr Sritharan, TNPF leaders Mr. Gajendrakumar Ponnampalam and Mr S. Kajendran, Mr Senthilvel of New Democratic Marixist-Leninist Party (NDMLP), leading civil society activist Mr. Guruparan Kumaravadivel as well as Dr. Wikramabahu Karunaratne, Mr. Mano Ganeshan and leaders of the United Socialist Party from the South.
Audio: Gajendrakumar Ponnambalam on 21 09 2012 by TamilNet
Audio: Mr Senthilvel at Keappaapulavu by TamilNett
Audio: Wickramabahu Karunaratne at Keappaapulavu by TamilNet
The demonstration participated by more than around 400 local people, including the villagers of Keappaa-pulavu, took place for nearly one and a half hours between 11:30 a.m. and 1:00 p.m.
SL military is currently stationed in the village Keappaa-pulavu and recently there was news that the occupying military plans a permanent base there.
"We want our land, let the military quit our homeland," the demonstrators demanded.
An SL military officer of the rank of Major was engaged in an intimidating way in videographing the demonstrators.
The SL military has also organized a group of around 20 people to come to the venue and shout that demonstrations are not necessary for Tamils.
Later, speaking to media, Mr. Gajendrakumar Ponnampalam expressed his concern over how the OHCHR team that visited the island for a week is going to present its report. Everything moves towards a planned hoodwink, he implied.
All leaders who participated the demonstration opined that the affected people are left with no option other than struggle and demonstration in addressing the world and in letting the world know of their plight.
Audio: Mano Ganesan at Keappaapulavu by TamilNet
Audio: Sritharan MP by TamilNet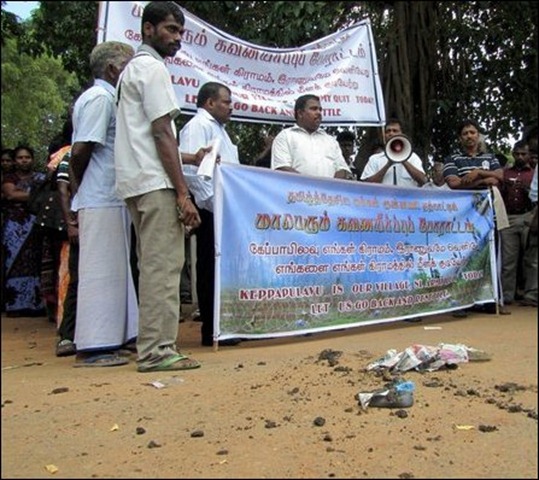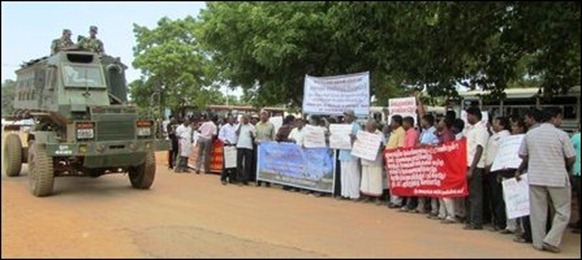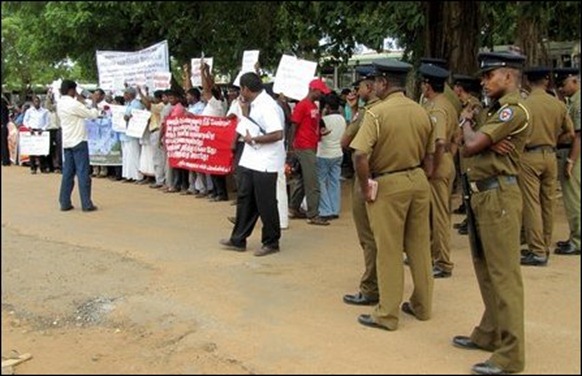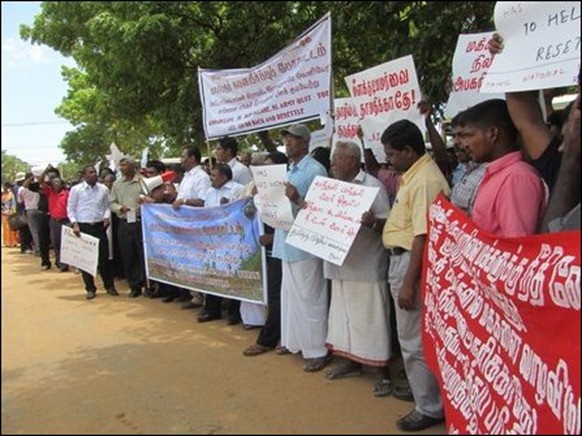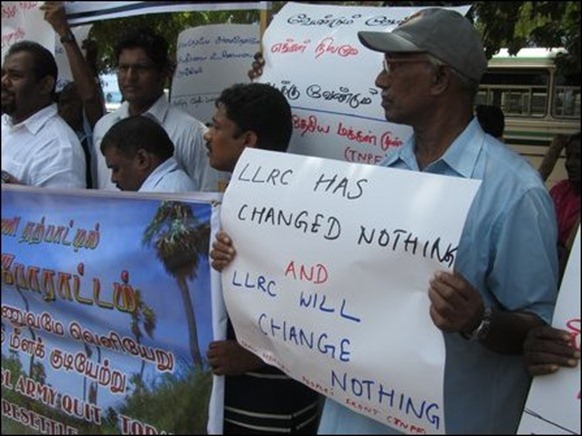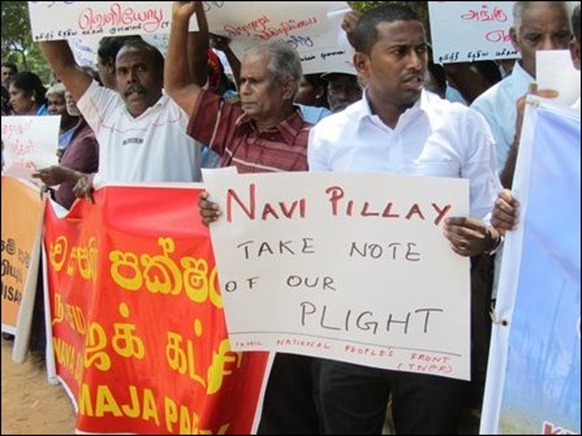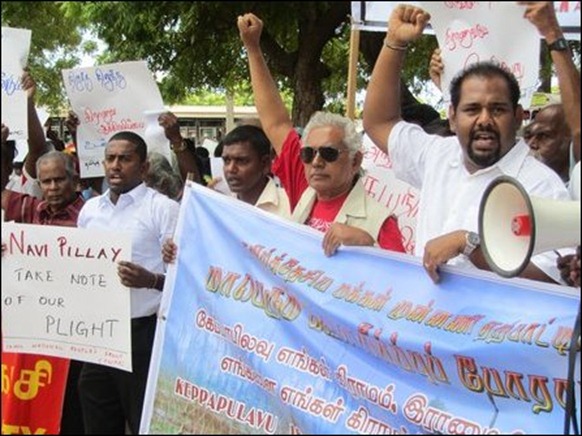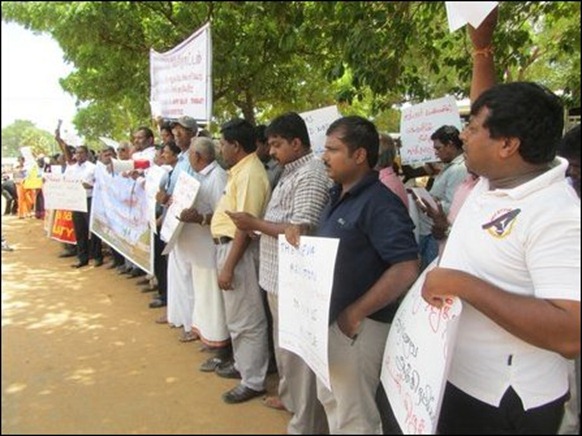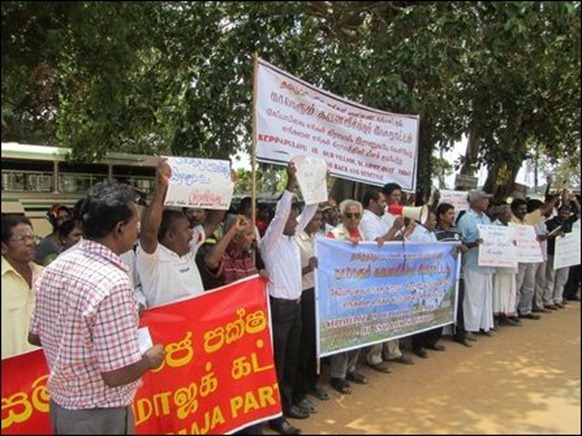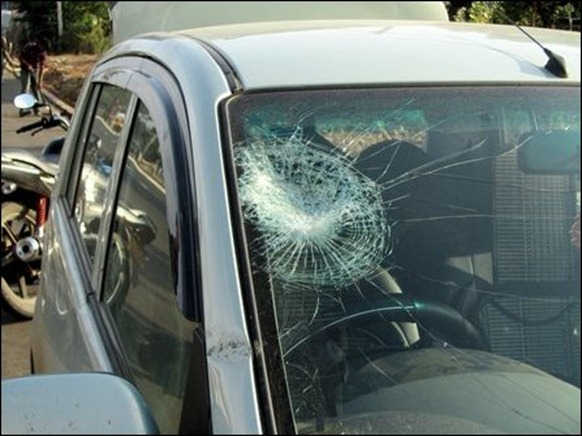 (For updates you can share with your friends, follow TNN on Facebook and Twitter )