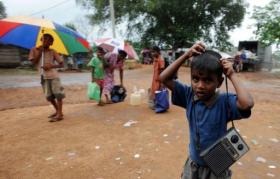 The United States on Thursday expressed concern over "rushed re-settlement" of thousands of Tamil civilians displaced by Sri Lanka's separatist war that ended three years ago.
Many of the people have been moved to "hastily cleared" land without adequate shelter, water and sanitation, the US embassy said in a statement, almost a month after Sri Lanka shut its war-time civilian shelters.
"We remain concerned about the rushed resettlement of the final IDPs (internally displaced persons) to close the Menik Farm camp," the embassy said.
Menik Farm, one of the world's largest refugee camps, closed last month with its final batch of 1,186 inmates resettled in the northeastern district of Mullaittivu, where the final battle between troops and Tamil Tigers was fought.
In the last months of fighting, some 300,000 Tamils sheltered at the facility, which the government described as a "welfare centre" but some rights groups labelled it an internment camp.
"Many long term IDPs remain unable to return home or access basic services from the government of Sri Lanka," the embassy added.
Sri Lankan forces crushed the Tamil Tigers after decades of fighting in a campaign that sparked allegations that thousands of civilians had also been killed, a charge denied by the military.
(For updates you can share with your friends, follow TNN on Facebook and Twitter )