Six uprooted residents of Maathakal from the Valikaamam district secretariat division of the Jaffna district have filed a fundamental rights violation petition in the Sri Lankan Supreme Court (SLSC) last week seeking an order that they should be allowed to resettle in their own lands and houses. They have cited the SL Defense Secretary Gotabaya Rajapaksa, Commander of the Sri Lanka Army Lt. Gen. Jagath Jayasuriya, Commander of the Jaffna Security Forces Maj. Gen. Mahinda Hathurusinghe and the Attorney General as respondents.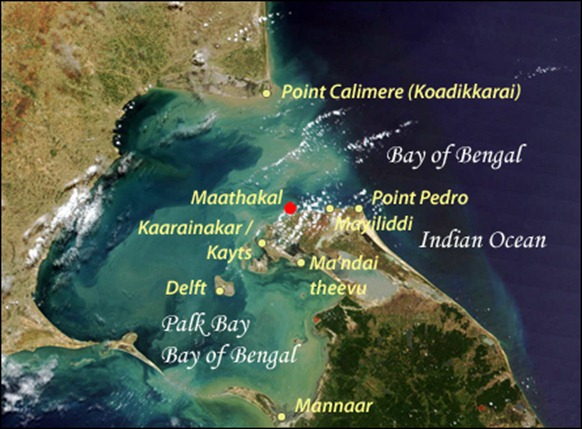 [Satellite Image Courtesy: NASA, Visible Earth. Details & Legend: TamilNet]
The petitioners through their counsel Mohan Balendra have stated that they have been uprooted since 1992 as a direct result of the war in the North-East and though the hostilities ended in May 2009, they are unable to return to their properties.
The uprooted Tamils from Maathakal were being prevented from accessing and resettling in their property.
instead, a fence has been erected around a 'new' SL High Security Zone in Valikaamam North area and a notice has been put up prohibiting any one from entering the area, the petitioners said in their suit.
They also said in their petition that that there have been no regulation declaring the areas in which their property was situated to be "High Security Zone" and with the lifting of the State of Emergency in August 2011, there were no longer any legal grounds for any area in the island of Sri Lanka to be declared a "High Security Zone".
(For updates you can share with your friends, follow TNN on Facebook and Twitter )