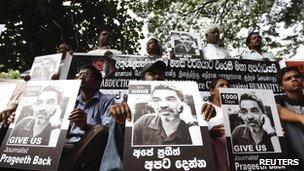 Family members of disappeared people in Sri Lanka have urged UN Secretary-General Ban Ki-moon to intervene and help them find missing relatives.
They sent their appeal to mark 1,000 days since the disappearance of an anti-establishment cartoonist-cum-journalist, which remains unsolved.
There are still reports of kidnappings, or attempted kidnappings, every month, a BBC correspondent says.
The government and security forces deny abducting people.
Campaigners handed the UN a letter, also delivered to the Sri Lankan president, speaker and opposition leader, saying these men, along with Mr Ban, had the power to make progress in fighting disappearances.
They urged the government to prosecute those responsible and give information about people secretly detained.
The writers of the letter said they believed the victims were being held "somewhere on this island".
Thousands of complaints
Showing the strain of nearly three years of waiting for the cartoonist and journalist Prageeth Ekneligoda, his wife and son have been keeping a vigil outside the UN compound in the commercial capital, Colombo.
"Where is my husband, where is my father?" they asked.
They are not the only ones still waiting for information, reports the BBC's Charles Haviland in Colombo.
About 15 other people, mostly Tamil and Muslim women, some of them weeping, held placards showing sons or husbands who vanished three, four or more years ago – some of them former rebel combatants, others not.
Many were reportedly picked up by the security forces as the war was ending in 2009. One woman has three sons missing.
A human rights campaigner, Nimalka Fernando, highlighted the legacy of enforced disappearances stretching back to the 1980s.
"We have seen that there are more than 5,000 complaints sent from Sri Lanka to the [UN] Working Group on Disappearances. The Sri Lankan government says they have looked into 59 cases out of all the complaints received."
There have been few demonstrations by the families of disappeared people since December, when two young campaigners for the families themselves vanished in the northern city of Jaffna, our correspondent says.
(For updates you can share with your friends, follow TNN on Facebook and Twitter )