Gajendrakumar Ponnambalam, the president of the Tamil National People's Front (TNPF), interviewed by TamilNet's Palaka'ni on Saturday said that Eezham Tamils are legally qualified for nationhood under the existing international law. Nationhood is denied to Eezham Tamils not by the law, but by the international politics, he said. The interview with Mr Ponnambalam will be released on Wednesday.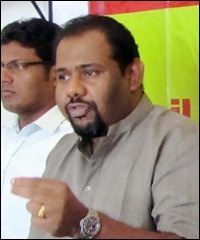 Eezham Tamils describe themselves as a Nation of people, while some others choose to describe them as a 'minority'.
"The distinction between nationhood and all other forms of recognised identities is that Nations can have the right to exist as States as well," Mr Ponnambalam further said adding that Tamils in the island of Sri Lanka were among very few people who qualified for nationhood.
Nations can choose the right to exist as states, which is recognized under the international law as the Right to Self-Determination.
"We all know that the international law is only on paper. But, in practice it is international politics," he said.
Responding to another question on devolution of power, Mr Gajendrakumar said Colombo is not going to devolve power.
"It is an increasingly centralised State, as well as increasingly changing its character into a Sinhala Buddhist State. It is not going to devolve power. What is happening is the complete opposite. The State is centralising more and more power and it is becoming more and more Sinhala Buddhist," he said.
(For updates you can share with your friends, follow TNN on Facebook and Twitter )