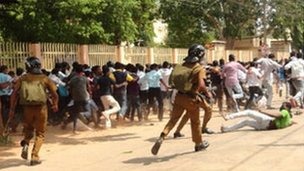 Students and security forces have clashed in Jaffna in northern Sri Lanka in the worst political disturbances since civil war ended in 2009.
A Tamil politician accused the military of injuring a newspaper editor and several students.
The army said it had to restrain people who were throwing stones.
Security forces had entered Jaffna University, disrupting students who were marking Martyrs Day, which commemorates dead Tamil Tiger fighters.
The BBC's Charles Haviland in Colombo says these were the biggest overtly political disturbances in the north since the war ended more than three years ago.
'Hit twice'
A Tamil opposition parliamentarian and newspaper owner, E Saravanapavan, told the BBC the army had attacked Jaffna University students as they tried to emerge from their campus to demonstrate against the security forces, a day after the latter entered the university campus and surrounded hostels.
"Four boys were arrested and the army were hitting others. When professors came out, three were released; one was held till later and the army said he was not a student, but he was part of the university media."
One news website showed a picture of a student lying on the ground, apparently being set upon by the police.
Mr Saravanapavan said that on Tuesday night, the editor of his Jaffna paper was beaten by plain-clothes soldiers while trying to cover the unrest and had to be admitted to hospital.
"Army people in civilian dress were holding a guy by the neck of his shirt, then they punched him against the wall. I saw it was the editor of Uthayan, T Premananth. He was hit twice."
'Good job'
But the Jaffna army commander, Mahinda Hathurusinghe, said the MP had been "paid to spread rumours against the military" and that the security forces had acted to stop students throwing stones and bottles:
"The army is doing a good job. The people are peace-loving but there are some disgruntled elements. We don't have a problem with students, only with a section of the students, people with ulterior motives."
A university teacher said on Twitter that it was the other way round, with students "attacked the moment they stepped out".
The tensions arose as some students marked the death of Tamil Tiger guerrillas at small candle-lit memorials, while well-produced pro-Tiger posters appeared in various parts of the formerly Tiger-held territory.
Our correspondent says since the end of the war this had hardly happened within Sri Lanka, where the Tigers and their separatist ideology are strictly banned – although Tiger sympathisers in the diaspora call 27 November "Martyrs' Day" and mark it as such.
(For updates you can share with your friends, follow TNN on Facebook and Twitter )