In a protest march in London from Temple Station to 10 Downing Street on Saturday, Eezham Tamil youth in the UK condemned the harassment of the Jaffna University students and faculty by the occupying military and demanded the immediate release of the students arrested by Sri Lanka's TID. Raising slogans urging the British government to take action, the protestors also called for an end to the occupation of the Tamil homeland. "The UK government and the co-chairs have a moral and political responsibility in what has been happening to the Eelam Tamils after 2009. It is clear from the brutal repression of the students of Jaffna University, that reconciliation in unitary Sri Lanka means denial of basic civil liberties of the Tamil Nation. This is an aspect of genocide and the UK government should immediately respond to this," Bairavi Ratnabal from TYO-UK told TamilNet.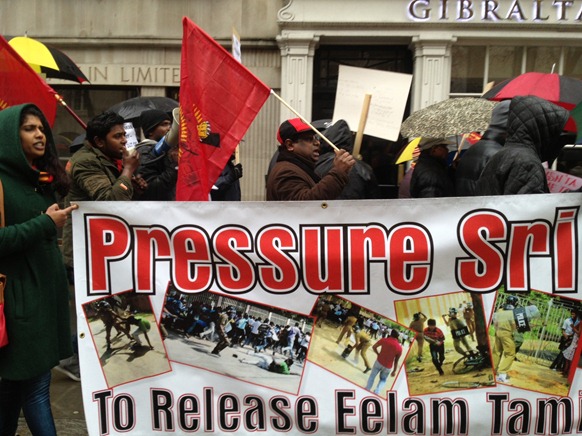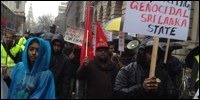 The demonstration involved a large participation of students from different universities in London. Conveying solidarity with the students in the homeland, the protestors raised slogans that observance of remembrance events is a basic democratic right.
Commenting on the recent harassment of the University faculty by the occupying SLA, Dr. Andy Higginbottom, principal lecturer in Politics and Human Rights at Kingston University, expressed his support for the JUTA. "The Jaffna University's teachers have the right to organize and support the students. It is worrying that they are also being called for interrogation now. The The march today is imp to keep pressurising the UK govt, but we really need to involve to a greater extent the civil society in the UK, non-Tamil student unions, lecturers and others."
The protest march was organized by the TYO-UK.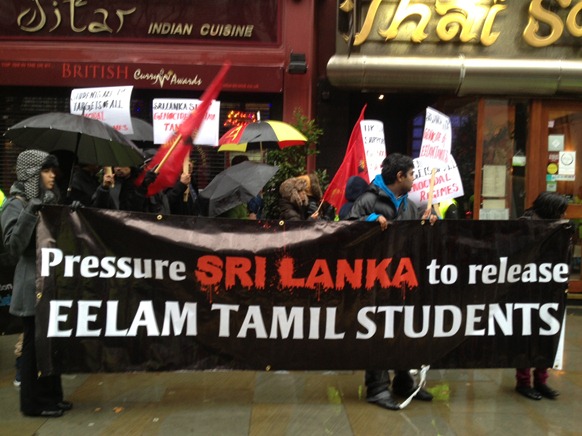 (For updates you can share with your friends, follow TNN on Facebook and Twitter )