Sri Lanka's main opposition, the United National Party (UNP) on Wednesday said it will boycott Thursday's court hearing over the move to impeach Shirani Bandaranayake, the country's first woman Chief Justice.
"We will not attend court tomorrow as it is a matter concerning parliament. Our leader will be making a special statement on this", UNP general secretary Tissa Attanayake told reporters.
"This does not mean that we have changed our opposition on the impeachment ruling. We still maintain that it was an unfair trial", Mr. Attanayake stressed.
The Appeal Court on December 21 had issued a notice to the 11-member Parliamentary Select Committee which had found Ms. Bandaranayake guilty paving the way for impeachment and her removal from position.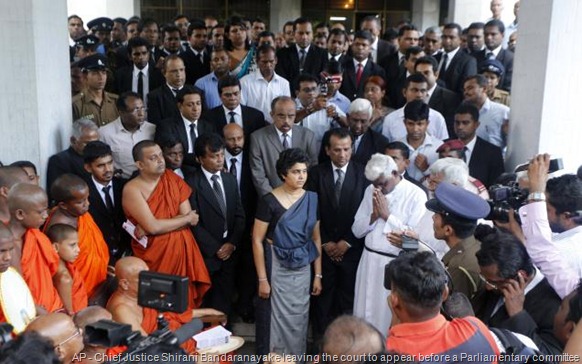 The court said the members of the PSC as a matter of legal obligation should present themselves in court.
This was in reference to a plaint filed by Ms. Bandaranayake seeking a quash order on the PSC findings.
The court also advised the PSC that it should not act in derogation of the lady chief justice until they concluded the hearing of the case.
The UNP had 2 members in the PSC while two other opposition parties were represented by two members.
However, the Tamil National Alliance (TNA) sources said that its member R Sampanthan would honour the court notice and attend the hearing tomorrow.
The JVP or the People's Liberation Front is also contemplating attending the hearing, sources said.
All four opposition members had walked out of the PSC backing the Chief Justice's contention that the trial was unfair and was being rushed through with a prejudged ruling.
Ms. Bandaranayake, 54, was found guilty by a parliamentary select committee in the government moved impeachment proceedings against her.
The trial was conducted ex-parte after she and her lawyers walked out alleging bias.
The impeachment process came after months of friction between the government and the chief justice.
(For updates you can share with your friends, follow TNN on Facebook and Twitter )