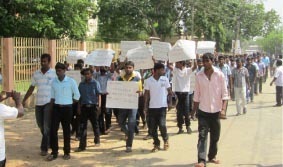 Minorities are easy targets in a Sinhalese polity believing that no one else belongs. As Tisaranee Gunasekara has noted, UPFA ministers have attacked the Chief Justice for having Tamil lawyers – although Neelakandan voted for the BASL resolution against the Ban Ki Moon Report, it did not help him.
Thrishantha Nanayakkara has drawn our attention to an ITN programme where Minister Wimal Weerawansa makes much of the Court of Appeal bench ruling on the CJ matter consisting of two Tamils and a Muslim (whereas it really had one of each community, including a Sinhalese).
The Muslims too are caught up as hate campaigns are launched against halal food (ignoring that the rest of us have Poya food imposed on us by closing meat stalls on full moon days) and Muslims being successful at Law College entrance exams (ignoring that Muslims have preserved multilingualism, giving them an edge in English medium exams and those requiring wide reading).
Jaffna University
As Jaffna University is attacked and Douglas Devananda's appointees manage it, the President has complained privately that Douglas with his thuggery is costing him support and he is looking for other Tamils to join him. The President is play-acting: his brothers speak against the 13th Amendment in general; he for it in India; and Douglas for it among Tamils. They are as thick as thieves and cannot afford to let go of each other because of each other's dark secrets they carry.
Unfortunately some Tamils believe this charade. When Douglas' VC was caught between army orders to reopen the university and adamant students who refused to resume classes before their arrested colleagues are released, she was desperate as her reputation among Tamils sank low. Believing that Douglas had lost clout, it was to the SLFP's Jaffna organizer Angajan Ramanathan and Mr. Ramachandran (I believe from Germany) who runs 'Tamil Buddhists' that she turned. The meeting they arranged through Gotabaya with Jaffna Commander Hathurusinghe resulted only in her eating his Palahaarams (viands) as noted last week.
By-passed, an angry Douglas issued orders at his Pre-Council Meeting. At Saturday 29th University Council his appointees thundered: "Douglas can deliver. You should have called an emergency meeting." Douglas then attended a meeting on Thursday with the Minister for Higher Education where the VC was asked to reopen after Thaipongal and bring the arrestees' parents to Douglas who would ask his friend the President to release them. Will the President countermand his brother Gotabaya for Douglas? Is it a game to enhance Douglas?
Giving hope that Sri Lanka is still a viable nation, southern students Wednesday distributed posters in Colombo in support of their Jaffna colleagues, even as the Federation of University Teachers' Associations planned a delegation of 20-30 members at January's end to Jaffna, joined by the Inter-University Student Federation. As I feared that the government may use the IUSF presence to launch another attack, the IUSF president Sanjeeva Bandara himself was attacked in Kelaniya on the 30th. He has blamed the army.
Tamils Helpless
In the meantime Tamils without access to the law and order machinery or to the administrative apparatus in a Sinhalese state, continue to suffer. Bishop Rayappu Joseph of Mannar was questioned by the CID in an attempt to silence outspoken Tamils. Thuwarakeswaran, the brother of UNP MP Maheswaran who was shot dead in Colombo, had acid thrown on him at the Nallur Temple. Uthayan reports that in his police complaint he has identified the assailant as Governor G. A. Chandrasiri's personal secretary and former military officer Jayakody who had fled the scene with four others and stated that Jayakody had been following him. The poor terrified fellow is in hiding.
Striking terror among Tamils, four-year-old Surendren Sudanththini was raped and her body recovered on the 28th from a well in Mandaithivu, controlled by Douglas and the Navy. Elsewhere, Dr E. Shivashankar, who went with a Tamil girl tricked into the army and her parents from Kilinochchi (Rudrapuram) after her OL exam, was detained on a certificate declaring the doctor insane! ENT Surgeon Dr Thirumaaran, who earlier had his arm slashed, has fled Jaffna.
Today as schools reopened there are reports that soldiers will compulsorily teach Sinhalese to Tamils in Kilinochchi and Mullaitivu. TNA MP Sritharan has questioned how Grade 6 qualified soldiers can teach. Education officials ran away from reporters pleading ignorance. The gimmick was sanctioned by a Presidential Working Group.
Paranoid Government
A young man, who placed flowers on his mother's grave in Northeast Jaffna on Dec. 26, the anniversary of her perishing in the tsunami, was arrested, accusing him of celebrating the LTTE although it was December not November. I was invited to a Christmas party by Tamils from Windsor Canada and Detroit Michigan. As the meeting began a person suddenly called for 2 minutes' silence for all who had died in May 2009. I saw no harm. Of the 70,000 estimated to have been killed by government forces in the UN Petrie Report, there were hardly 10,000 LTTE, the majority being children and the uncommitted forced to bear arms. It can therefore be safely surmised that most of the 70,000 killed by our army (whether in cold blood or by asking them to shelter in protected areas and then bombing them) were innocents. Those standing up continued to talk and were disengaged as at Tamil functions.
A general attack on Tamil university students by the army is, in my mind, as absurd as if the Canadian Government had decided to bomb that hall where we stood up to commemorate the dead in the name of fighting a banned terrorist organization. It is important for Sri Lankans to see that Jaffna attack in the context of a berserk military continuing its genocide.
Brigadier Ravi Ratnasingam
Ravi Ratnasingam has received headlines after his visit to North America during Christmas. Reports suddenly allege that he played a part in the massacre of 70,000 as the commander of Vavuniya from 2001.
From Royal College, he is one of few Tamils in the army and had a good reputation – especially in rehabilitation work in the Wanni after the war. His wife is an old girl of CMS Chundikuli and from Somasundaram Avenue. They are both extremely well-liked.
But to a private party thrown to him in New York, Major General Shavendra de Silva who is accused of war crimes flew all the way from Geneva. This association does no good for a Tamil who has helped many people get released from detention.
A pattern is emerging where the army is trying to find scapegoats for its criminal activity. Is the Tamil Ratnasingam being set up to take the fall for de Silva? We see the same thing in Jaffa where Hathurusinghe has suddenly said that about "1,000 ex-LTTE cadres have evaded rehabilitation and are currently engaged in criminal activities in the North." This runs counter to his statement two years ago that the EPDP is responsible for criminal activities in Jaffna at a time when it was said that with so many checkpoints no robber can move about without army connivance, and he was trying to extricate the army.
Canada
In Canada for Christmas as Sri Lanka goes downhill, I must confess to second thoughts about having returned home. A few of us who had been happy in Sri Lanka returned. Today many of us have gone abroad again; at least our children have. I am pained for our failed dreams of home.
That pain and regret were underscored when the Rector of St. Paul's l'Amoreaux in Scarborough, the Rev. Canon Dean Mercer, before pronouncing the benediction at the Tamil New Year Service conducted by Jaffna's Rev. Isaac Selvaratnam and Batticaloa's Mr. Vivekanandan, said this:
"The Canadian tradition at New Year was to make merry. After Tamils and West Indians came, I am glad it is now to be present in the House of God as the New Year dawns."
Our talents and culture, so rudely rejected in Sri Lanka, are welcomed and used with appreciation, making me ask "Where is home?"
(By Prof S. Ratnajeevan H. Hoole)
(For updates you can share with your friends, follow TNN on Facebook and Twitter )