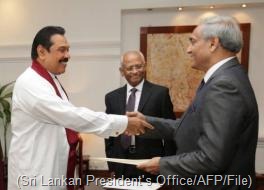 Sri Lanka's controversial new chief justice spent his first full day at work in his chambers on Wednesday after his impeached predecessor insisted she remained the country's top judge.
Anti-riot squads and police commandos were deployed in and around the main courts complex in Colombo Tuesday amid heightened tensions over the appointment of Mohan Peiris as chief justice, but the guards were removed on Wednesday.
And lawyers who stayed away from work last week protesting the impeachment of Shirani Bandaranayake were at work Wednesday, officials said, adding that their decision not to recognise the new chief judge was still in place.
"The new CJ was in his chambers, but he did not take up any cases," a court official said on condition of anonymity.
"We can expect him on the bench after a ceremonial session. That could happen soon."
In a parting shot as she drove out of her official residence on Tuesday evening, Bandaranayake said she was still the rightful chief justice and was only leaving office because she feared for her life.
Even before Peiris could be sworn on Tuesday, a local think-tank filed two petitions in the Supreme Court and the Court of Appeal contesting the new appointment as unconstitutional. No date has been fixed for hearing.
Bandaranayake was sacked by President Mahinda Rajapakse on Sunday two days after parliament voted to impeach her, despite a chorus of international calls as well as two successive court rulings that the process was illegal.
(For updates you can share with your friends, follow TNN on Facebook and Twitter )