Rifghan Badurdeen, a brother of SL minister Rishad Badurdeen and his supporters have been grabbing lands of Tamils situated in Thalaimannaar Pier, complain landowners in the area. Several landowners have lodged complaints with the SL police and the Sri Lankan Human Rights Commission in Mannaar. But, there has been no action against the illegal land grab by the SL minister who has been causing disharmony among the peoples belonging to different religions. Civil officials in Mannaar have forwarded one of the complaints made in December 2012 to media, exposing the culprits behind the illegal encroachment.
Mr Badurdeen men are engaged in grabbing lands of Tamils in Thalai-mannaar area in Mannaar DS division and in Maanthai West DS division, civil officials in Mannaar say.
The SL minister has instructed the police not entertain such complaints, the officials further said.
Badurdeen's men have been encroaching into palm groves in Thalai-mannaar while the SL military is also grabbing lands in Ezhuththoor GS division in Mannaar causing panic among the villagers. Similar incidents signaling a systematic land grab have also been reported at Kuthiraik-kea'ni and Paalameen-oadai, and in Maanthai West.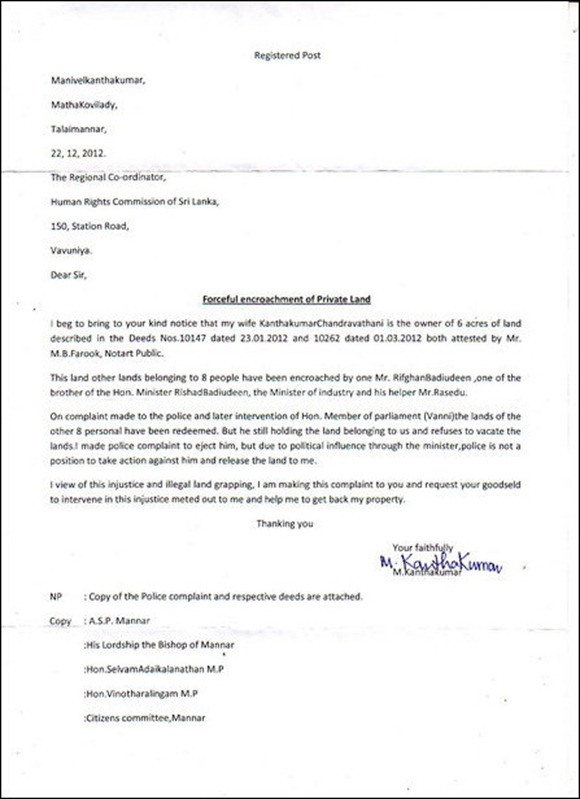 (For updates you can share with your friends, follow TNN on Facebook and Twitter )