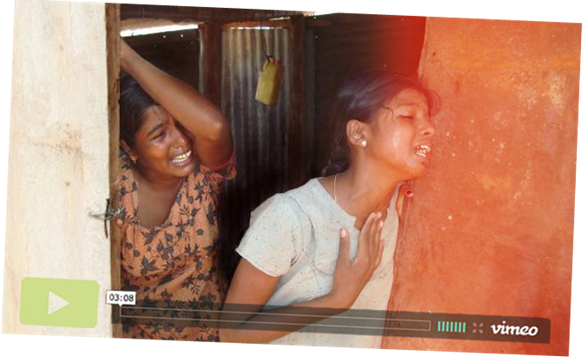 A week before its official launch in the Geneva Human Rights Film Festival, the capital on Friday caught a 20-minute preview of the film 'No Fire Zone: The Killing Fields of Sri Lanka,' which included footage of the alleged cold-blooded killing of LTTE chief V. Prabakaran's minor son.
"It was a culmination of three years of journalistic investigation on war crimes and crimes against humanity," said director Callum Macrae in a recorded message from London, adding that he hoped the film would lead to informed debate about the issue in the United Nations.
"Sri Lanka has demonstrated that it is unwilling and incapable of conducting an investigation. If the world betrays the Tamils again, they will take justice into their own hands."
The film, which contains deeply disturbing evidence, powerful eyewitness testimony and personal stories of survival in a war zone, also has a former U.N. staffer, Peter Mckay, publicly speaking about his experience of being trapped in a war zone for two weeks and witnessing first-hand the shelling of the no fire zone. "There's a crucial point to be made on why the Sri Lankan government declared the no fire zone… There is only one intent and that is because you don't really care you are going to kill the people that are located in that safer zone or more importantly you are actively targeting them," Mr. Mckay says in the film.
In a panel discussion that followed the screening, G. Ananthapadmanabhan of Amnesty International India said it was appropriate for India to take a stance on the issue, not only over Sri Lanka's "historical accountability" but also to "improve the current situation."
However, IANS Executive Editor M.R. Naryanaswamy drew on his vast journalistic experience from reporting in Sri Lanka and said the footage "does not surprise me."
With the film including substantial footage that was shot as part of "war trophy and passed around," he said: "As more footage comes out and the evidence mounts up, Sri Lanka will find it very difficult to not take a stand."
(For updates you can share with your friends, follow TNN on Facebook and Twitter )