Tamil activists questioned the bonafides of the U.S. Government in the US attempts to push for accountability in Sri Lanka's war, after the alleged war-criminal, Sri Lanka's United Nations Deputy Permanent Representative Shavendra Silva, was invited to speak on "defeating terrorism" at the United States Marine Corps University in New York. Sources close to policy makers in Washington said that the approval for the "lecture" would not have been given without the knowledge of the US State Department and Department of Defense.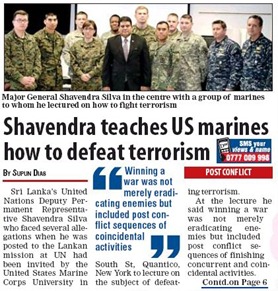 "This invitation appears to bestow credibility to Silva, who has been accused of complicity in Mu'l'l'vaaykaal killings, and sends a wrong signal to the Tamils, as the US engages in human rights matters related to Sri Lanka. Only recently, the U.S. State Department scuttled Tamils' efforts to pursue legal action by intervening, using the dicretionary power of the Executive Branch, in war-crimes cases against Shavendra Silva and SriLanka's president Rajapakse, and suggesting to the US Courts to grant immunity. These developments should convince the expatriate Tamils to view the US resolution to be submitted to the UNHCR sessions with a critical eye and with extreme suspicion to establish the real motives of the International Community," a spokesperson for Tamils Against Genocide, a US-based activist group that seeks legal redress to Tamil war victims said.
"Whoever is for buying 'terrorism cannot be defeated by military means', thus many are aware that we, the whole Sri Lankan nation together has defeated terrorism in our country," Daily Mirror quoted Silva as saying. "Since you are so sophisticated and top secret affiliation to modern warfare in any part of the world with US Marines I, at the highest point in my knowledge assure that the terrorism can certainly be tamed and defeated if you learn lessons from the past," the paper added, quoting Silva.
In Sri Lanka's "war without witness," according to the UN's Expert Panel, more than 40,000 Tamil civilians were killed during the last months of the war. Petrie report, which investigated UN's conduct during the war, estimated the figure to be near 80,000.
(For updates you can share with your friends, follow TNN on Facebook and Twitter )