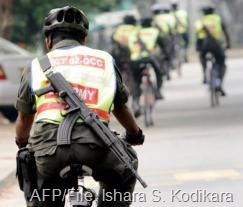 Sri Lankan security forces continue to use rape and other forms of sexual violence to torture suspected Tamil rebels nearly four years after the end of the island's civil war, a rights group alleged Tuesday.
The New York-based Human Rights Watch (HRW) claimed widespread rape of detainees during the separatist conflict that ended in May 2009, and said politically motivated sexual violence by the military and police has continued.
The report, coinciding with the UN Human Rights Council sessions in Geneva, gathered accounts of 75 cases of alleged rape and sexual abuse between 2006 and 2012 in both legal and "secret" detention centres in Sri Lanka, HRW said.
"Most of the rape victims spoke to Human Rights Watch outside of Sri Lanka, and corroborated their accounts with medical and legal reports," the report said. "All suffered torture and ill-treatment beyond the sexual violence."
Sri Lanka's military dismissed the HRW report as "speculative" creativity, but said there had been five cases of sexual violence alleged to have been committed by seven soldiers between 2007 and May 2009, the height of fighting during the war.
Five soldiers had been dismissed for sexual violence, the military said, adding that the HRW report was an exaggeration.
"The report by the HRW is not more than a piece of speculative creativity and the allegations contained therein are far from the truth," military spokesman Ruwan Wanigasooriya said.
Rights groups as well as Tamil Tiger rebels have previously accused Sri Lankan troops of using sexual violence against detainees, but the latest report comes at a time when Sri Lanka faces fresh censure over its rights record.
In the 141-page report, titled "We Will Teach You a Lesson", HRW said most of the victims spoke to them after leaving the island and often bribed officials to get out of the country.
One man detailed how he was tortured by security forces and medical records corroborated his claims, the report said.
"Two officials held my arms back [while] a third official held my penis and inserted a metal rod inside," HRW quoted the victim as saying. He had surrendered to government forces in May 2009.
Sri Lanka's military has routinely dismissed allegations of sexual violence as well as other war crimes as an attempt to discredit them by remnants of the Tamil Tigers.
Government forces crushed the Liberation Tigers of Tamil Eelam (LTTE) in a no-holds-barred campaign that also sparked widespread allegations that up to 40,000 civilians were killed in the final months of fighting.
The United States is due to move a fresh resolution at the UN Human Rights Council in March, urging Sri Lanka to probe alleged war crimes.
Testifying on Tuesday before Congress, senior American diplomat Robert Blake expected the resolution to pass for the second straight year.
Blake, the assistant secretary of state for South Asia, said that the US was "disappointed" at Sri Lanka's efforts to carry out the findings of its own Lessons Learnt and Reconciliation Commission report.
"I think there's good support thus far to have another vote this year to continue to urge Sri Lanka to implement its own report," he told the House Foreign Affairs Committee.
(For updates you can share with your friends, follow TNN on Facebook and Twitter )