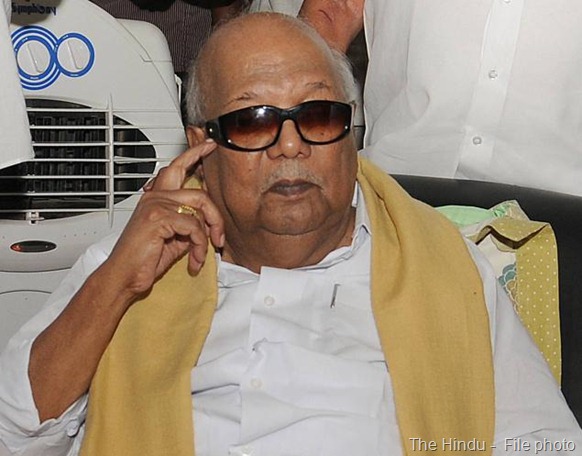 Keeping up pressure on the Centre, key UPA ally DMK on Sunday said India should support the U.S.-backed resolution against Sri Lanka in the United Nations for alleged war crimes, and the people of Tamil Nadu and his party were looking forward to the government's decision with concern.
"India should support the resolution proposed by the United States…people of Tamil Nadu are watching with concern what will be the decision of India on the resolution. We too are (watching)," DMK president M. Karunanidhi told reporters in Chennai.
Replying to a question, Mr. Karunanidhi said the party had already stated India should propose the resolution at the UN Human Rights Council at Geneva.
"If India proposes the resolution, it will reflect the country's duty and the sentiments of the Tamils world over." Asked whether the Centre was not accepting DMK's demand over the Sri Lankan Tamils issue, he said, "We have repeatedly insisted on it. We will continue to insist. We hope they will understand our sentiments and act. Not only us, Tamils all over the world are eagerly looking forward to see India's decision."
Dissatisfied with the government's reply to the debate on the plight of Tamils in Sri Lanka, DMK along with arch-rival AIADMK and Left parties had walked out of Rajya Sabha last week.
On whether the Congress party would participate in the conference of Tamil Eelam Supporters Organisation, revived by him, to be held in Delhi on March 7, he said, "We have invited the Congress. We hope they will participate."
(For updates you can share with your friends, follow TNN on Facebook and Twitter )