Eight students of Loyola College, Chennai, who have begun an indefinite hunger-strike on Friday calling for a UN referendum among the Eezham Tamils, have also condemned the pro-LLRC US resolution to be tabled at Geneva, accusing it of bailing out genocidal Sri Lanka. Speaking to TamilNet, Mr. Britto, one of the protesting students, outlining the demands of the hunger-strike, said that the current US resolution was a farce that would completely cover-up the genocide of the Eezham Tamils and strengthen the hands of the perpetrators. The protestors also told TamilNet if their hunger-strike was not paid heed to by the Central Government, they would undertake a Civil Disobedience campaign throughout Tamil Nadu to boycott paying taxes to the Indian state that is endorsing the genocide of their brethren.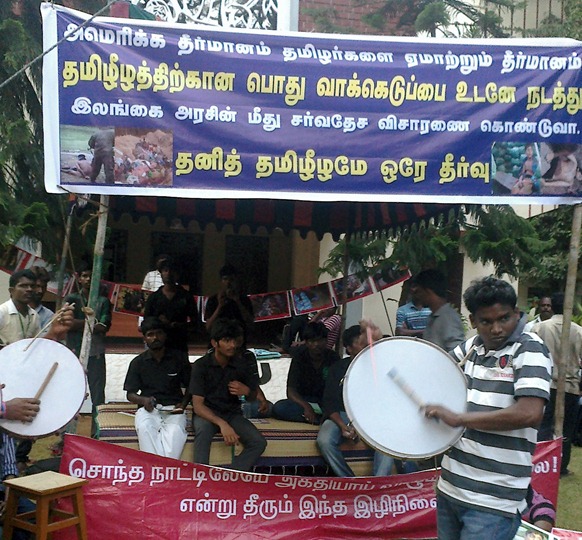 The eight students from Loyola College had initially planned the protests at the AICUF premises near their college. But after pressure by the police against the protest, as the venue was close to the Sri Lankan Deputy High Commission, it was changed to another venue near Koyambedu bus stand.
The 8 students from Loyola, Britto, Thileepan, Shaji, Mani, Paarvaidaasan, Piriyan, Paul Kenneth and Leo Stalin, are from different departments.
Speaking to TamilNet from Koyambedu, Mr. Britto said that the proposed US resolution at Geneva was legitimizing the LLRC and thereby "strengthening the institutions of a genocide-committing state."
"This is a farce of asking a criminal, a criminal accused of the worst crimes against humanity, to investigate his own crimes," he said.
Besides calling for a referendum among the Eezham Tamils in the homeland, refugees, and the diaspora to decide their own political future, the other demands of protestors include an independent international investigation in Sri Lanka monitored by non-Asian countries.
They have also called for the Indian government to accept the earlier Tamil Nadu assembly's proceedings and enforce economic sanctions on Sri Lanka and have urged the TN state to shut down the Sri Lankan Deputy High Commission.
The protestors have given a call to students across Tamil Nadu to join them in protest.
Likewise, speaking on behalf of the protestors, Mr. Britto urged the diaspora youth to come out on the streets and protest to the establishments until their just demands are met.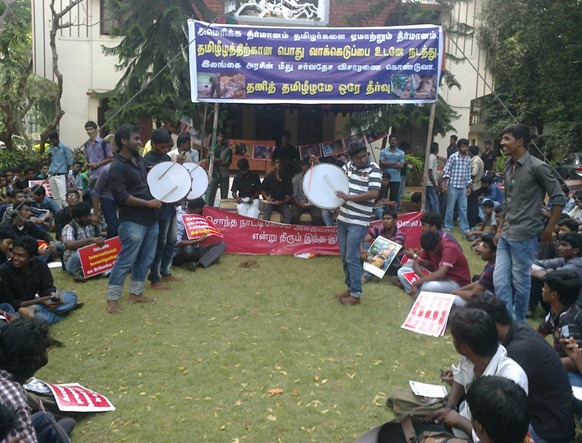 (For updates you can share with your friends, follow TNN on Facebook and Twitter )