Hundreds of Tamils and several non-Tamil protesters gathered at Canberra, Australia in front of the Parliament House, denouncing a LLRC based political solution as a farce and demanding the creation of Tamil Eelam. The Eezham Tamil protesters, who conveyed their admiration for and solidarity with the students' upsurge in Tamil Nadu, were also of the opinion that the impact of the Tamil Nadu protests had reached Australia, a representative of the Campaign for Tamil Justice told TamilNet. The demonstrators marched to the embassies of the US, India, UK and the EU and submitted their demands to the respective embassies. Speaking to TamilNet, Trevor Grant, former chief sports writer at the Age opined that the proposed US resolution at Geneva would only encourage "the Rajapaksa regime to continue its carefully-planned genocide of Tamils."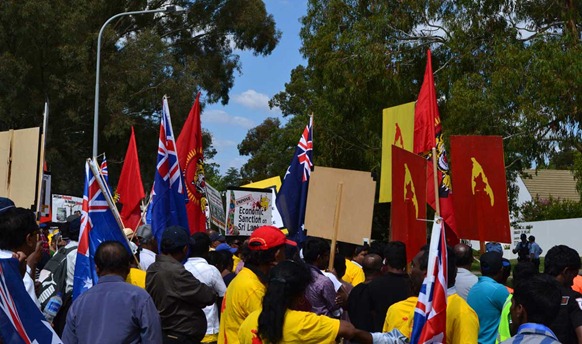 Trevor Grant told TamilNet, "There is a growing worldwide protest movement against the persecution of Tamils by the brutal Rajapaksa dictatorship. We are part of it here in Australia and the latest step is our rally in Canberra on Wednesday. Our aim is to bring home to Australian politicans that they cannot keep dancing with this dictator, and expect the electoral support of the vast majority of Australians, who believe in basic human rights for all."
"Australia is supporting the current US resolution on Sri Lanka at the UN Human Rights Council in Geneva. We believe this resolution will do little except encourage the Rajapaksa regime to continue its carefully-planned genocide of Tamils. We will keep agitating for the Australian Government to stop its policy of engagement with Sri Lanka until it sees the light," he added.
Senator Lee Rhiannaon, of the Greens party and the leader of the Greens party Senator Christine Milne both called for the urgent need of an independent investigation into war crimes as well as the need for commonwealth nations to think twice before travelling to Sri Lanka for CHOGM 2013.
A number of MP's from both the Labour Party and the Liberal party also attended, including MP John Murphy & MP Michelle Rowland from the Labour Party and MP Philip Ruddock from the Liberal Party.
The participants of several non-Tamils showed that the Tamil issue was affecting the larger Australian public, sources told.
"The Australian Government has continually been telling us that their strategy towards Sri lanka is engagement, this has not had any effect for the last 4 years. It is high time that Australia, especially as a member of the Security Council, took a much stronger and righteous stand. It is high time they called for an independent investigation in to war crimes, crimes against humanity and the ongoing persecution of Tamils in Tamil Eelam," youth activist Seran Sribalan told TamilNet.
He further said that the protestors in Australia stood in solidarity with the demands placed by the Tamil Nadu students.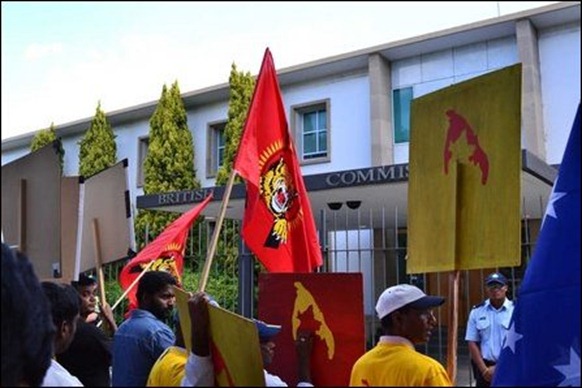 [Full Coverage]
(For updates you can share with your friends, follow TNN on Facebook and Twitter )