H.D.K.S. Kapila Jeyasekera, who rose in ranks as the Superintendent of Police (SP) from the Special Task Force (STF), and who was alleged to have been responsible for the extra-judicial execution of five Trincomalee students in 2006, and other killings in Trincomalee during 2006, including the ACF-17 killings, has been appointed as the Deputy Inspector General of Police (DIG) to the Ki'linochchi and Mullaiththeevu district, Jaffna Tamil daily Uthayan reported. Mr Jeyasekara is also a close ally of Sri Lanka's Defense Secretary, Gotabhaya Rajapakse, and has been kept out of visible public presence after Jeyasekera was accused of a serious security lapse involving India's Prime Minister during his visit to Colombo in 2008.
Mr Jeyasekera was appointed as the main security detail to India's Prime Minister Manmohan Singh during the SAARC summit visit in August 2008, and was involved in a serious security lapse for having failed to turn-up after the Prime Minister completed his official engagements at the summit.
Colombo-based political observers said, Mr Jeyasekera was interdicted due this security failure, and has been pushed to the background until he re-emerged with the menacing news in Uthayan that he has been appointed as the new guardian of law-enforcement to the Tamil districts in the Vanni.
PDF: TAG Report: Trincomalee executions
Dr Manoharan, whose son Ragihar was one of the five students in the Trinco-5 killings, told TamilNet: "As I have said in my affidavit, I have no doubt that Mr Kapila Jeyasekera is responsible for killing my son. Jeyasekera was the key Police operative receiving orders from the higher political positions in targeting key Tamil activists and witnesses, and once Jeyasekera was transferred from Trincomalee, the killings of Tamil civilians suddenly decreased remarkably," Dr Manoharan said.
Dr Manoharan said he has been following closely his son's case (DR-11/1-2006) that was supposed to be making progress in the Trincomalee high court, and nearly six months ago, when the CID submitted that there is no evidence implicating any of the defendants, the Magistrate closed the case. Manoharan also assailed the "shamelessly untruthful" campaign being carried out in Geneva by Sri Lanka's representative, Minister Mahinda Samarasinghe, who announced that the Trinco-5 case is still proceeding in the Trincomalee High Court and that the Sri Lanka law enforcement is "still collecting evidence."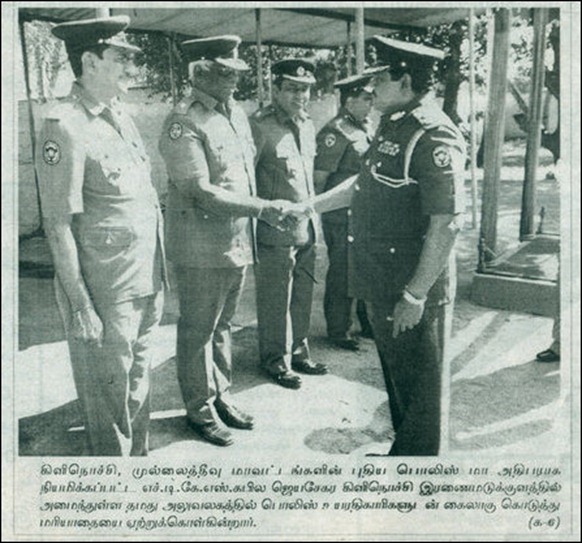 Kapila Jeyasekera (right) at his office near Iranaimadu tank (Courtesy: Uthayan 20th Feb 2013)
Excerpts from Dr Manoharan's affidavit on Kapila Jeysekara follows:
Within a very short time I was aware of the pick- up truck moving towards the Ghandi statue. I learned later from other people that this pick-up belonged to SP Kapila Jeyasekera. I never knew SP Kapila Jeyasekera before this time, I would not recognize him and I cannot describe him. This matter is not mentioned in the inquest report, because our lawyer advised us not to give this information now because of our situation. We were very vulnerable at that time.

After that I saw the pick-up truck of SP Kapila Jeysekara pass by, again I did not know, at that time, it belonged to him I heard it was his later. I saw that there were about six or seven armed soldiers being carried in the open backed rear section. They were wearing full-face masks, which we call 'monkey masks' – only holes for the eyes. The Navy personnel at the checkpoint said to each other, words to the effect, "Kapila Jeysekara has gone, now we can go into the area."

On May 14 2006 at 11:45 hours SP Kapila Jeyasekera's pick up truck was parked in front of my house. On the 25 May 2006 I was not there, but army officers came to my house and said to my wife words to the effect "We demand to see your husband."

Some months ago I heard some new information that a retired sergeant who was working on the 2nd of January 2006. It was said that he was standing near the Trincomalee bus stand to collect his dinner at about 18:30 hours. At the same time SP Kapila Jeyasekera and his team passed by and stopped his pick-up truck in front of the Sergeant. Kapila Jeyasekera supposedly said that there was some problems near the beachfront and ordered him to return immediately to barracks. I found this strange because at that time there had been no incident near the beach, it is for this reason that I think that SP Kapila Jeyasekera planned the bomb attack. If this information is true, I question why Kapila Jeyasekera would have said that an hour before the explosion took place.

I personally believe that these murders were carried out by the STF under the supervision of SP Kapila Jeyasekera. One of the reasons I believe this is because, in the area of my son's murder, around 50 to 60 soldiers were present at the time of the killings, as far as I am aware the police only seized 13 or 14 guns for further examination during their inquiries.
Some relevant statements related to Kapila Jeyasekera in the two reports produced by UTHR, follow (refer to the reports in the links or in the Dublin document for more details):
Early on, many in Trincomalee with police contacts pointed to SP (Operations) Kapila Jayasekere as having played a central role in the crime. The Magistrate's proceedings make it clear that he was on the scene, but do not record when he arrived. Police and naval personnel at the checkpoints leading to the scene have testified when and which police vehicles entered the area. But there is total silence on the arrival of Kapila Jayasekere in his conspicuous unmarked pick up. Any effective investigation should have followed this important lead and established his time of arrival.

Inspector Zawahir, an experienced police officer in a conflict area saw nothing, heard nothing and asked nothing. He was only following directions from Kapila Jayasekere. The one thing he did not fail to find was the unexploded hand grenade apparently planted with the intention of incriminating the victims. The whole purpose of the Police direction of the case seems to have been to expunge gunshots, bullets and bullet wounds, and make them disappear from the records.

…In fact Bulanawewa claimed not to have known anyone there. He significantly did not mention the presence of SP Kapila Jayesekere who had assigned him to Vas Perera, although he claims to have left the scene with Vas and his men. It was left to Vas Perera to tell us about Kapila's presence for his own excellent reasons.
In a classified memo written by US's Sri Lanka Ambassador Robert Blake in October 2006 to Washington, ten months after the extra-judicial execution of five students, Basil Rajapakse, had told Ambassador Blake that Special Task Force (STF) was responsible for the killings, according a Wikileaks document.
"Evidence is overwhelming that high level officials, including those in the U.S., have information that implicates Sri Lanka military and police of involvement in the killings of the Trincomalee students. Dr Manoharan has vowed to keep the fight alive, and the Rights organizations have an obligation to force the international community uncover the truth and bring the perpetrators to justice," said a spokesperson for Tamils Against Genocide (TAG), a US-based organization that seeks legal redress for Tamils affected by war.
(For updates you can share with your friends, follow TNN on Facebook and Twitter )