DMK chief Mr M Karunanidhi in a press meet in Chennai on Tuesday announced the decision of his party pulling out from the ruling Congress coalition and cabinet at New Delhi. Continuing any further in the Indian Central Government is committing great evil to Tamil people, after the Indian Government has largely diluted the US resolution and didn't consider the suggestions made by the DMK, and as there is a situation created that is not going to help the Eezham Tamils in any way, Mr. Karunanidhi told media. There could be no ambiguity in opinion that Rajapakse regime committed genocide in Tamil Eelam, Mr Karunanidhi said. Paying heroes' homage (Veera Va'nakkam) to the Tamil fighters and their families who laid down their lives in the Eezham War, Mr Karunanidhi said they fought for idealistic victory, while people lacking Tamil feeling ridiculed at them.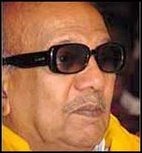 The DMK pull out signals the fate of the US resolution further diluted by New Delhi, political observers said.
On Monday, Tamil Nadu Chief Minister Ms Jayalalithaa urged New Delhi to "strengthen" the US resolution. Other than urging the addition of some fundamentals, she has also come out with suggestions to sharpen certain words and phrases used in the resolution. But even those instances were modified in the opposite way in the latest draft, informed circles said.
Mr Karunanidhi, speaking to media said that his party would not even consider supporting the Congress coalition from outside.
DMK is not responsible if religious fundamentalists come to power by DMK's withdrawal from the coalition, he said.
When asked whether he considers the failure of the Indian Government on the resolution as its betrayal to Tamils, Mr Karunanidhi said that nowadays he even wonders whether the UN itself has betrayed Tamils. India too betrayed, he said.
If it is true that the Indian Government had helped the Sri Lankan Government in the war in 2009, then it will be one of the matters that will be investigated in the future, Mr Karunanidhi said, adding that first the truth about it should be known.
PDF: Press statement by DMK Chief [Tamil]
(For updates you can share with your friends, follow TNN on Facebook and Twitter )