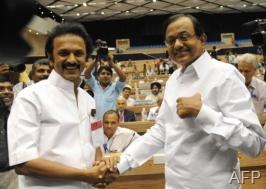 A top Indian opposition politician accused the government of launching a "vendetta" after police raided his home on Thursday, just a day after his party pulled out of the ruling coalition.
M.K. Stalin, a key powerbroker in the Dravida Munnetra Kazhagam (DMK) who is also the son of the party's leader, reacted furiously after investigators searched his home in Chennai as part of a long-running tax probe.
Stalin described the officers from the Central Bureau of Investigation (CBI) as the "dead hand" of the main ruling Congress party who he said had targeted him for no good reason.
"There should be some reason behind (the raid)… It's a political vendetta," he told reporters.
As the main opposition Bharatiya Janata Party denounced the raid as a "blatant" abuse by a government trying to cling to power, even one of Congress's most senior ministers voiced his unease.
"I strongly disapprove of CBI action. It is bound to be misunderstood," Finance Minister P. Chidambaram told the Press Trust of India news agency.
A CBI spokeswoman, Dharini Mishra, said the agency was searching 19 locations in and near Chennai, capital of the southern state of Tamil Nadu, as part of a probe into the illegal import of cars worth $3.7 million.
The DMK's five ministers handed in their resignations to Prime Minister Manmohan Singh on Wednesday over the coalition's perceived failure to condemn alleged atrocities against Tamils in Sri Lanka.
The DMK, with 18 members of parliament, is based in Tamil Nadu and depends on Tamil voters who have close ties to their counterparts in Sri Lanka.
The DMK's exit from the coalition less than a year before India is due to go to the polls means the government, which had already lost its parliamentary majority, is even more vulnerable to a vote of no confidence.
Indian politicians have previously come under fire for using the CBI to protect allies accused of corruption as well as pile pressure on rivals.
The DMK found itself at the centre of a massive graft case three years ago, when one of its members, A. Raja, then a telecoms minister in the coalition government, was accused of selling mobile phone licences at knock-down prices.
(For updates you can share with your friends, follow TNN on Facebook and Twitter )